Register and reserve your hotel online. View map and official convention hotels/rates here.
Hotels are filled on a first-come, first-served basis when you register for the meeting. After Aug. 23, hotel reservations will be accepted on a space-available basis with no guarantee that the conference rates will apply. All rates are per room per night, plus taxes.
A credit card guarantee is required with each reservation request. Credit cards must be valid through your hotel check-in date (November 2018). Hotel reservations without a valid credit card will not be processed. Credit cards are used as a guarantee only and will not be charged prior to the meeting unless cancellation penalties are applicable or otherwise noted. The hotel may charge a one-night deposit to the credit card on file prior to check in.
Registering 7 or More Attendees/Group Rooms
If you need to register and reserve rooms for 7 or more people, please download the group hotel form and submit it no later than Aug. 16, 2018. For assistance, please contact GroupHousing@Showcare.com or call 514-228-3145. Please note that reservations cannot be accepted by phone. Completed forms will only be accepted by fax; our secure server will reject any emails with credit card information.
Hotel Confirmations
Confirmations will be sent after each reservation booking, modification, and/or cancellation. Review each one carefully for accuracy. If you do not receive a confirmation via email within five to seven days after any transaction, please contact the housing bureau at LeadingAge@Showcare.com.
Changes and Cancellations
All hotel cancellations need to be made in writing as per the deadlines. Review your chosen hotel's specific cancellation policy for penalties. Due to hotel policies, associations are now held financially responsible for hotel rooms reserved but not actually occupied. To save LeadingAge from penalty fees, it is imperative that you reserve hotel rooms realistically and cancel with as much notice as possible. Modifications to your hotel reservations can be made online. Please refer to the personalized URL in your confirmation to make modifications or additions. If you need to have a copy of your confirmation re-sent to you, or need to make changes to your hotel reservation, please email LeadingAge@Showcare.com.
Beware of Solicitation from Unauthorized Housing Agencies/Room Poachers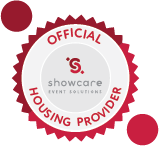 Attendees and exhibitors may be subjected to inappropriate solicitation from hotels or third-party housing agencies not affiliated with the LeadingAge Annual Meeting & EXPO. Poachers may offer a lower hotel rate than the rates offered in our official block. The reserved rooms may be of significantly lower quality, cancellation polices are often intolerant, and you may not be able to make changes your reservation. Poachers do not have your best interests in mind.

Please book your accommodations through the official LeadingAge hotel block at the same time you register!

LeadingAge's official housing/registration partner is Showcare Event Solutions, LeadingAge@Showcare.com or 514-228-3159. Any offers from other housing companies or agencies are not endorsed by LeadingAge. Please report any unauthorized solicitations to meetings@leadingage.org. LeadingAge will demand a cease and desist of such efforts.