NOTICE: Beware of unauthorized hotel poachers! LeadingAge's official housing/registration partner is Maritz. Be careful providing your financial information to any other company claiming to be affiliated with LeadingAge. Registration and hotel reservations should only be booked from the LeadingAge website.
The Lay of the Land
We're partnering with more than a dozen hotels in Downtown Chicago to host 2023 Annual Meeting attendees.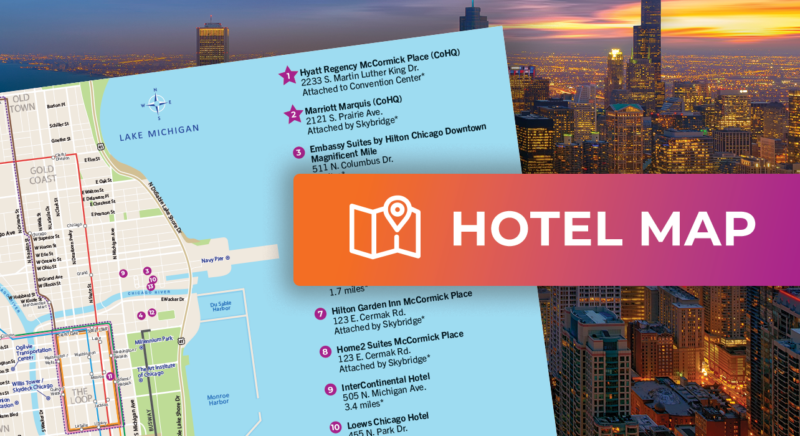 Hotel Information




Hotel Name
Distance from McCormick Place
Single | Double Rate
1. Hyatt Regency McCormick Place (CoHQ)

attached 

$319 | $319

2. Marriott Marquis (CoHQ)

skybridge

$343 | $343

3. Embassy Suites*

3 miles

$189 | $189

4. Fairmont Hotel*

2.8 miles

$249 | $249

5. Hampton Inn McCormick Place

skybridge

$265 | $265

6. Hilton Chicago*

1.7 miles

$299 | $299

7. Hilton Garden Inn McCormick Place

skybridge

$269 | $269

8. Home2 Suites McCormick Place

skybridge

$254 | $254

9. InterContinental Hotel*

3.4 miles

$239 | $239

10. Loews Chicago Hotel*

3 miles

$249 | $279

11. Palmer House*

2.3 miles

$289 | $289

12. Radisson Blu Aqua Hotel*

2.8 miles

$229 | $229

13. Sheraton Grand Hotel*

3 miles

$250

| $270
Note: *Due to proximity of hotels to McCormick Place Convention Center, shuttle service is provided to the hotels indicated. Ride share is also recommended. Please email meetings@LeadingAge.org if you have accessibility considerations.Hotel rates are per room per night, plus taxes.
No. The hotel reservations are a part of our online registration process. You will need to register in order to access our hotel reservations.

Please only book your hotel accommodations through the official LeadingAge Annual Meeting hotel block at the same time you register. Hotel reservations for the meeting should be made directly through our registration link. Maritz is our official registration and housing provider. Beware of room poachers who may contact you promising discount hotel rates. If you get phone calls or emails from solicitors trying to sell you a hotel room, they are not associated with LeadingAge or the city. For more information please consult the Hotel page on our website.

Individual registrations/housing:

Group registrations/housing:

No. All hotel reservations must be made through the LeadingAge Annual Meeting registration link (at the same time you register) to receive the LeadingAge conference rate. Please note conference hotel rates are based on availability after September 7, 2023.

If you need to register and reserve multiple rooms for 5 or more people, you will submit a hotel block request as part of your group registration.
For assistance, contact 1-864-208-2486 or leadingagegroup@maritz.com. Please note that reservations cannot be accepted by phone. Hotel reservation details are included within your registration confirmation email and will be sent after each reservation booking, modification, and/or cancellation. Review each one carefully for accuracy. If you do not receive a confirmation via email within a few days after any transaction, please contact the housing bureau at leadingagegroup@maritz.com as soon as possible.

When you book a hotel reservation through our registration system, we hold your reservation until October 12, at which point we distribute the names to the hotels. If you try calling the hotel about your reservation before that date, they will not yet have your information on record.

One night's room deposit may be charged on the credit card on file by the hotel prior to check-in. Please verify these charges directly with the hotel on or after October 12, 2023.

Hotel rates are subject to taxes and some may also attach additional fees. Taxes are subject to change, so please check your confirmation email for details.

We encourage all attendees to make their hotel reservations as soon as possible. Hotels are filled on a first-come, first-serve basis when you register for the meeting. After September 7, hotel reservations will be accepted on a space-available basis. All rates are per room per night, plus taxes. If you are making hotel group reservations, please note those deadlines may be earlier.

A credit card is required to guarantee each hotel reservation. Cancellation requests must be received by the LeadingAge registrar/housing bureau by 5pm ET on Wednesday, October 11, 2023. Cancellation requests as of Friday, October 13, 2023 need to be sent directly to the hotel and made 72 hours prior to arrival to avoid a one night's room and tax charge.  If reservations are cancelled less than 72 hours prior to arrival or you do not arrive on your scheduled arrival date you will be charged one night's room and tax. The hotel may charge a one night's room and tax deposit on or after October 12, 2023 to the credit card used for guarantee.
Register Before You Book
You must register for the Annual Meeting before booking your hotel!
Visit Chicago
While you're in town for the Annual Meeting, discover all Chicago has to offer! From top-rated restaurants, popular attractions, live music, and countless activities across the city, there's no shortage of breathtaking things to see and do.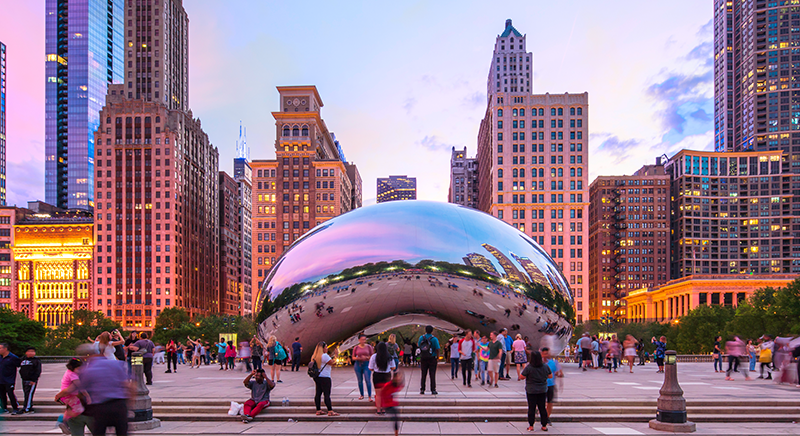 Health & Safety
Learn more about health and safety protocols at the 2023 Annual Meeting.