Paymerang
Paymerang Payment Automation means faster payments for suppliers.
It's just that simple. 
Paymerang processes billions in payments annually for clients around the country in diverse sectors including banking, education, healthcare, media, manufacturing and services. Our payment network spans 200,000+ suppliers from coast to coast, with 75% receiving electronic payments over traditional checks.
Protected payments. Proven profit.
By enrolling suppliers in electronic payments, we dramatically cut back the waiting time between when they submit an invoice and when they get paid. Not only that, but electronic payments reduce the risk of check fraud, and all payments made through our network are protected from fraud

---
Greater efficiency through processing and payment reconciliation
Greater security through encrypted account data and two levels of authentication
Greater speed though fast implementation and an easy-to-use interface
Greater support through a dedicated team of payment specialists

 
---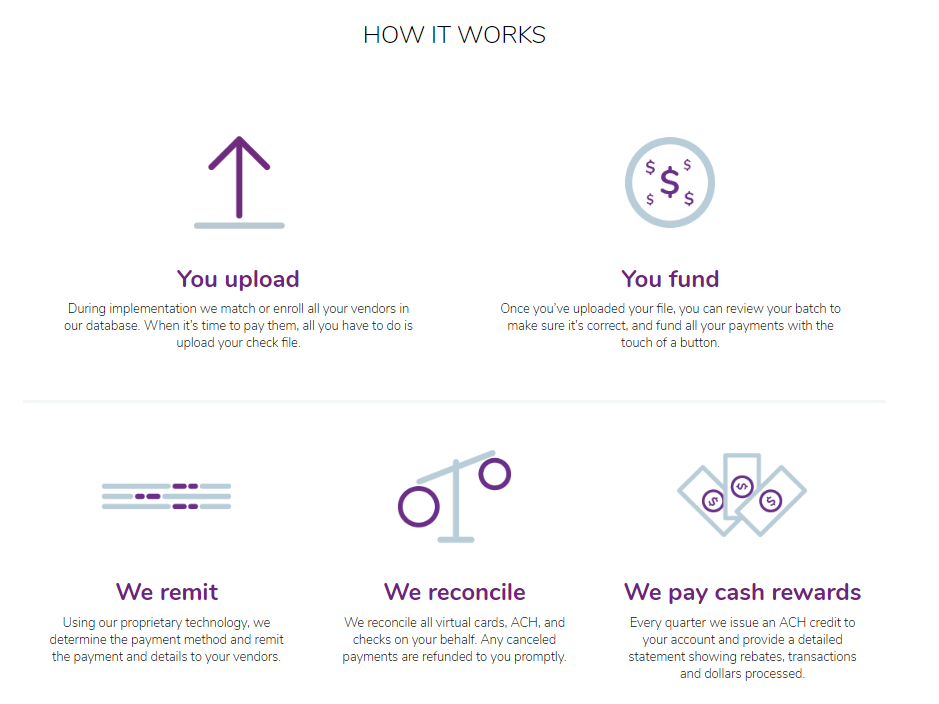 ---
---
Testimonials:
"We've only been with Paymerang for a short time. I only wish we found out about it sooner! The fully automated system saves us time and money. The people are wonderful to work with. We signed up right at the start of COVID and they were very patient with us as we worked through the implementation. All while we were working from home. They do all the work with the vendor and make is so easy. This was a big Win Win!" – Harbor's Edge
"Despite the COVID19 health crisis, we were able to implement Paymerang in about a month and streamline our entire accounts payable process – saving our accounting team valuable time and resources. The service has enabled us to work remotely if we have to and still make payments" – Westminster Canterbury Richmond 
---
With Paymerang, you get a new revenue stream without paying anything out of pocket for our services. Your suppliers get faster payments. And you can reclaim hundreds of ours for your finance team. It's a win-win-win.
Read more on the Paymerang blog
Learn More About Paymerang in the LeadingAge Buyer's Guide.