Home » LeadingAge Clinical Procedure Manual, 22nd Edition
LeadingAge Clinical Procedure Manual, 22nd Edition
Newly updated in 2023, more than 300 clinical procedures to ensure high-quality and consistent care delivery.
The LeadingAge Clinical Procedure Manual (CPM) is a must-have tool for providers committed to ensuring high quality care. Procedures are the backbone of clinical practice. Providers can use the CPM to ensure they are performed with reliable consistency by every clinician, every time.
From activities of daily living to clinical tasks to safety and wound care, the manual covers a wide range of procedures that home and community-based and other providers deliver every day. Based on updated professional guidelines, the CPM integrates recommended tools directly into procedures and emphasizes client and family education. This year's edition pays special attention to infection control and the use of PPE.
The CPM is reviewed bi-annually to ensure its content meets current professional guidelines and best practices. The 22nd edition was developed by contributing editors representing a diverse interdisciplinary group of professionals.
The Only Clinical Manual Your Agency Needs
LeadingAge is pleased to present the latest edition of the award-winning CPM, a staple of home-based care agencies committed to ensuring high-quality care for each patient at each visit.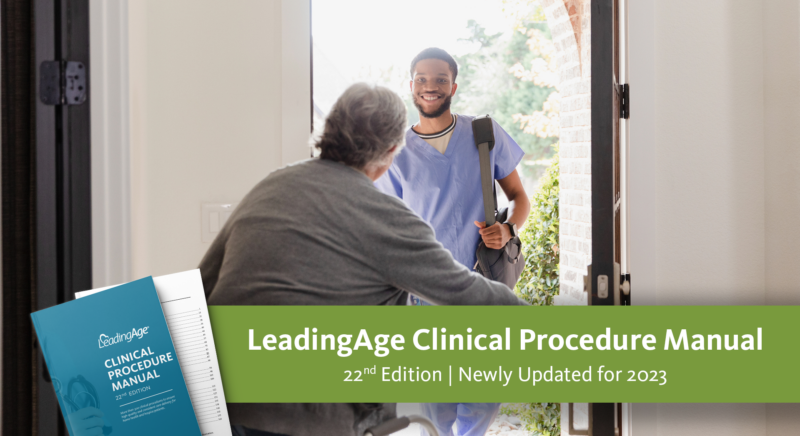 Digital Access
The procedures are available in multiple digital products available from Elsevier Publishing Company:
Home Health Suite

Hospice and Palliative Skills Collection
For additional information on digital access to the Clinical Procedure Manual, please contact Drew Callahan with Elsevier directly via email at d.callahan@elsevier.com or by phone at 720-695-1337.