Clinical Procedure Manual
The Only Clinical Manual Your Agency Needs
LeadingAge + VNAA is pleased to present the latest edition of the award-winning Clinical Procedure Manual (CPM), a staple of home-based care agencies committed to ensuring high-quality care for each patient at each visit.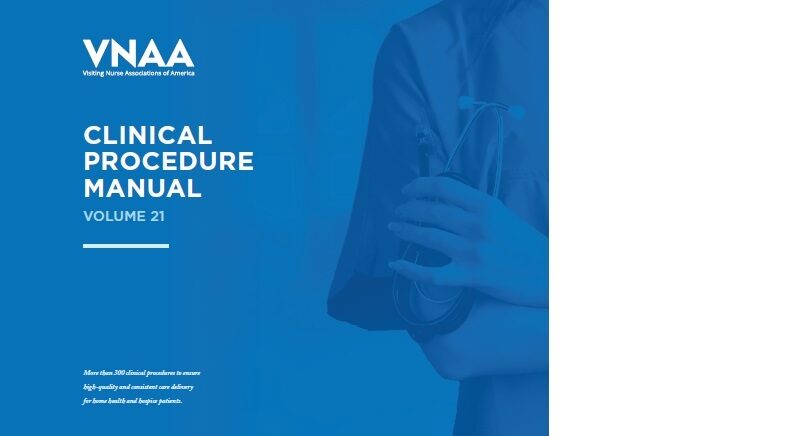 As the backbone of clinical practice, it is imperative that clinical procedures be performed in a consistent, reliable way by each clinician each time. The CPM is reviewed bi-annually to ensure its content meets current professional guidelines and best practices while supporting its purpose; to enable providers to deliver the best care possible to patients. In this revision, contributing editors represent a diverse interdisciplinary group of professionals. This streamlined edition is based on updated professional guidelines, integrates recommended tools directly into procedures, and places a new emphasis on patient/family education needs and documentation.
---
21st Edition Hard Copies
Click here to view a list of all included procedures
Click here to view a sample procedure
Hard copies may be purchased online at the following rates:
$1,999 – LeadingAge Member (subject to verification)

$2,400 – Non-Member
Quantities of 5 or more are eligible for a 10% discount off the rates above. For additional information about hard copies, contact sales@LeadingAge.org.
22nd Edition is in the works and will be available in late December 2022. Pre-order your 22nd Edition online. 
---
Digital Access
New for the 21st edition is a publishing partnership with the Elsevier Publishing Company. Content in the 21st edition was jointly developed and reviewed. The procedures, unless denoted as a VNAA Exclusive, are available in multiple digital products available from Elsevier Publishing Company:
Home Health Suite

Hospice and Palliative Skills Collection
For additional information on digital access to the Clinical Procedure Manual, please contact Drew Callahan with Elsevier directly via email at d.callahan@elsevier.com or by phone at 720-695-1337.