A Financial Stewardship Program to Help Staff Make the Most of Their Money
Byron Wellness Community, Ft. Wayne, IN, offers skilled nursing, memory care, and assisted living for people with complex medical conditions, including psychiatric or developmental disorders. Byron's employees are skilled in working with residents whose behaviors can be challenging.
Because well over 90% of the organization's residents rely on Medicaid, reimbursement levels make it difficult to raise wages, despite the difficulty of the jobs.
"Our challenge, at 90-plus percent Medicaid, is that right now, when everybody's in a bidding war to get the same few people, we just can't keep raising wages," says CEO Deb Lambert.
Byron has implemented a financial stewardship program for staff, designed to teach good money-management skills, encourage saving for retirement, and build a path to home ownership for employees.
In partnership with Centier Bank, which developed the program, Byron Wellness Community works with staff on a variety of financial literacy topics. Bank representatives (along with Lambert, who is one of the coaches) work one-on-one with employees to learn about credit reports, personal budgeting, paying down debt, and more.
"We tell them to bring their spouses or partners and older children so they can understand this as well," says Lambert. "We work on getting their credit score up and help them understand how their money can work for them better."
Home ownership is a goal for many staff. "It's the biggest purchase they're ever going to make," adds Lambert, "and it can be the most expensive purchase in a bad way, or it can be an investment in their future." Bankers and real estate agents are brought in to teach staff about mortgage types and the home-buying process.
Lambert says that since the program was implemented, at least four staff have bought their own homes as a result.
One employee says, "The financial stewardship program gave me the information, support, and confidence to tackle my debt and strive towards a more positive approach in building my credit. The support and material of the class allowed me to purchase my first home at the age of 24!"
Byron Wellness Community also offers a "Who Wants to Be a Millionaire" class, designed to encourage staff to save for retirement via the organization's 403(b) plan.
"They're going to have to finance their own retirement," says Lambert, "and you can do it no matter how much you make. We teach them the language of investing and we partner with our 403(b) group (Phillips Financial). Most people don't think they have anything, so we put a spreadsheet together to help them calculate their net worth. And many of them have more of a net worth than they ever thought."
Participants are taught basic principles of investing, and strategies appropriate to their ages. Lambert says many younger employees choose conservative strategies that are more appropriate for much older people.
"I just want to empower them to be able to know the terminology of investing, and if they [then] choose to be conservative, they do it because they have knowledge, not because they're afraid," Lambert adds.
How is your organization increasing wages and benefits to attract and retain direct-care workers? The LeadingAge Story Collector, powered by Greystone, makes it easy to submit your story. Try it now.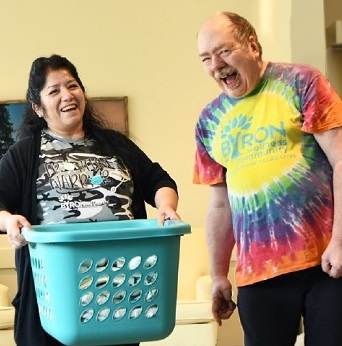 Most Recommended