An International Workforce Program as a Source of Well-Trained Staff
Western Home Communities, a full-continuum nonprofit provider in Cedar Falls, IA, is responding to chronic workforce shortages by welcoming its first group of hospitality interns from Jamaica this summer.
A group of 34 interns will arrive in late June with J-1 visas obtained through the U.S. State Department's Exchange Visitor Program. The interns, ranging in age from 21 to 41, will be approved to work for one year in the hospitality and tourism category. All will work in food and beverage, culinary, or front desk positions.
Norman Grant, Western Home Communities' director of equity, diversity and inclusion, is supervising the program. Grant, who came to the United States 12 years ago from Jamaica on a J-1 visa, spent three years as executive chef at Western Home Communities, then left in 2019 and came back with his new title at the beginning of 2022. He also recruited the new interns.
Authorized sponsor organizations are required to approve a J-1 program, assist with hiring, and ensure the program satisfies program regulations. Alliance Abroad is the sponsor for the program. In the long term, says Grant, Western Home Communities has interest in becoming a sponsoring organization itself, to enable similar recruitment of workers from the Caribbean, the Philippines, Taiwan, or South Korea.
With its current program, Western Home Communities will ultimately be able to bring in up to 120 interns. The program limits the number of interns to 10% of the organization's total jobs (which can include unfilled positions). New groups of interns will be staggered at approximately six-month intervals.
Finding Employees Abroad
The idea for seeking interns, Grant says, came about several years ago, at a time when the unemployment rate in Iowa was extremely low. Hospitality workers would go through Western Home's training programs, and then be lost to higher-paying jobs elsewhere.
"We started looking at international labor and what it could mean for health care and senior living in the future," Grant says. "None of us foresaw COVID, and how quickly that decimated the workforce. And so we decided to look back at it again with a little bit more vigor, because now we're not forecasting, now we're actually living in the crisis. I started approaching sponsors, trying to see how we could modify what was built for the hospitality sector. Finally we got one [Alliance Abroad] who was willing to configure what was built for hospitality for senior living."
The first group of interns are graduates of hospitality programs, or have business administration degrees with a focus on customer service. Many are graduates of HEART (Human Employment and Resource Training Trust/National Training Agency), a national training program in Jamaica for culinarians. Others have substantial culinary work experience at resorts or other entities.
All will attend required orientation and training programs and receive the same wages as other employees in their roles. Interns will live at the Stanard Family Center, a Western Home Communities building formerly used for assisted living. Interns will pay rent for shared rooms.
Asked how many of the first group of interns are interested in remaining in the United States after their first year, Grant says, "All except one. In fact, they want to add either CNA training or home health aide training to their existing training, even if they don't get a chance to stay beyond the first year. Western Home Communities has already invested in that training for the 34."
The provider is hoping to develop partnerships with local higher education providers, enabling the workers to later gain student visas that would allow them to study while working up to 20 hours per week at Western Home Communities.
"This program should create a win, win, win," Hansen adds. "Our residents will be served better and it will allow our existing teams to work at the top of [their] talent. This will happen at a fair wage which lifts the interns to a livable wage and gives them the American experiences they desire and deserve."
"I can't wait for our interns to arrive," says Grant. "They're passionate about getting here and working and learning. The J-1 program changed my life, and I'm sure it will do the same for them."
More information about the J-1 program can be found on the Western Home Communities website.
Do you have a story to tell? The LeadingAge Story Collector, powered by Greystone, makes it easy to submit yours. Try it now.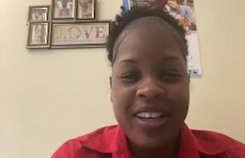 Most Recommended