Adult Day , PACE and HCBS, Home Health, Hospice |
November 22, 2022
Biden Administration, CMS Double Down on COVID-19 Vaccination and Treatment
The Centers for Medicare & Medicaid Services (CMS) released memo QSO-23-03-ALL on November 22 urging providers to shore up defenses against COVID-19. Specifically, CMS reminded providers of the importance of timely use of therapeutics when older adults have been diagnosed with COVID-19 and staying up to date with COVID-19 vaccination. CMS reviewed steps taken by the administration to increase availability of therapeutics, including providing access through long-term care pharmacies, and urged nursing home providers to reinforce infection control strategies.
In the memo, CMS stated that "every patient who tests positive for COVID-19 should be evaluated to determine whether the use of an available therapeutic is appropriate." CMS noted that monoclonal antibodies and oral therapeutics can prevent serious illness and save lives and may be appropriate even when patients' symptoms do not initially present as severe. Individual patient factors, including existing comorbidities, residence in a communal setting such as a nursing home, or engagement in communal services such as Programs of All-Inclusive Care for the Elderly (PACE), should be considered for accessing COVID-19 treatment before the patient's condition deteriorates.
Providers were also reminded of the importance of COVID-19 vaccination and nursing homes were reminded of existing requirements to educate residents, families, and staff on the importance of COVID-19 vaccination, including boosters, and to offer vaccination or assist residents and staff with accessing COVID-19 vaccination and boosters.
LeadingAge notes that the memo from CMS comes on the heels of an announcement from the White House about a 6-week campaign to address COVID-19 vaccination more broadly. In the fact sheet, the Biden Administration discussed enforcement for nursing homes that fail to educate and offer COVID vaccination. Rather than a new initiative, this appears to simply be a restatement of existing requirements. The White House also stated that nursing homes with low vaccination rates will be referred to state survey agencies for close scrutiny and CMS will share data on nursing homes with low vaccination rates with states and health plans to assist these entities in encouraging action and promoting vaccination uptake. As this information was not included in the CMS memo, no further detail is known at this time.
Meanwhile, LeadingAge has been collaborating with HHS since November 18, along with American Health Care Association (AHCA), on a plan to increase vaccine uptake among nursing home residents. The plan focuses on three sets of activities: supporting nursing homes with the lowest rates of resident vaccinations/boosters to help them improve their rates; making the offering of vaccines/boosters part of the hospital discharge process; and improving the ability of all nursing homes to offer vaccines/boosters quickly when a resident agrees to be vaccinated.
A key difference between the White House fact sheet and the LeadingAge/AHCA/HHS plan is that the White House includes both residents and staff while LeadingAge/AHCA/HHS plan focuses on residents. Read a joint statement from LeadingAge and AHCA on the White House plan here.
What This Means for Members
LeadingAge members should continue to work with staff and the individuals they serve to promote COVID-19 vaccination and use of therapeutics among COVID-positive individuals. All members should review and reinforce infection prevention and control measures, including COVID-19 mitigation strategies, and remain vigilant for symptoms of COVID-19 and other seasonal illnesses including flu and respiratory syncytial virus (RSV).
Nursing home members should work with residents, their families, and nursing home staff on COVID-19 vaccination. Review educational materials and increase opportunities for education and discussion among residents, their families, and staff, including dissemination of information in a manner and format that can be effectively understood. Work with your long-term care pharmacy to access COVID-19 vaccination and offer vaccines including the updated bivalent booster to residents and staff. Recognizing that booster uptake is low in the general community, seek opportunities to discuss concerns and address hesitancy with family members and friends who may be influencing residents' reluctance to maintain status as up to date with COVID-19 vaccination.
Nursing homes should ensure medical directors and residents' physicians have up to date information on the use of therapeutics and are aware of CMS's expectation that all COVID-positive residents will be evaluated for appropriateness of therapeutics. Review processes for evaluating residents, communicating with residents and families, and accessing and administering therapeutics. Ensure effective coordination between the nursing home, physicians, and the long-term care pharmacy to prevent delays in care, including the option to order advance supplies of oral antivirals to expedite treatment.
LeadingAge will continue to advocate on members' behalf to HHS and the White House to mitigate and eliminate barriers to accessing vaccines and therapeutics for the individuals we serve.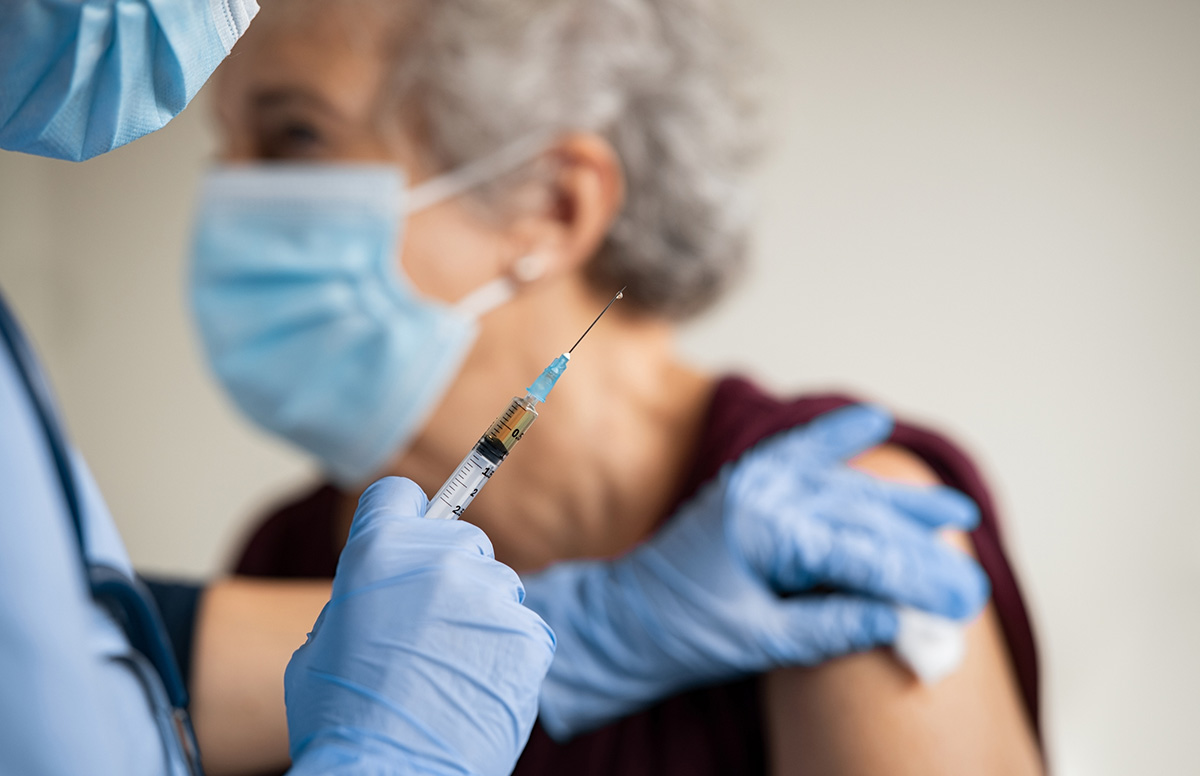 Member Recommended