Bringing Broadband, Devices, and Training to Affordable Housing Residents
Lighthouse for Older Adults is an initiative bringing high-speed Wi-Fi and digital devices to low-income senior housing residents. The program was launched in 2020 by the Center for Information Technology Research in the Interest of Society (CITRIS) and the Banatao Institute, a University of California research center focused on using IT solutions to build social and economic benefits.
CITRIS is working with two LeadingAge-member providers in California—Eskaton and Front Porch—to upgrade broadband access and teach residents to use wireless devices.
"The ultimate goal is […] to address depression, improve digital capability, and hopefully, move to a much higher level of activity such as telehealth," says David Lindeman, CITRIS health director and Lighthouse project lead. Lindeman says the combination of poor or nonexistent broadband access, lack of digital devices, lack of health care services, and social distancing aggravates the isolation that affects so many residents.
The initiative, funded by a private donor, hopes to expand among more long-term services and supports providers across the country.
Getting Started
Eskaton was approached about participating in the Lighthouse Project in summer 2020 (Lindeman sits on the Eskaton board).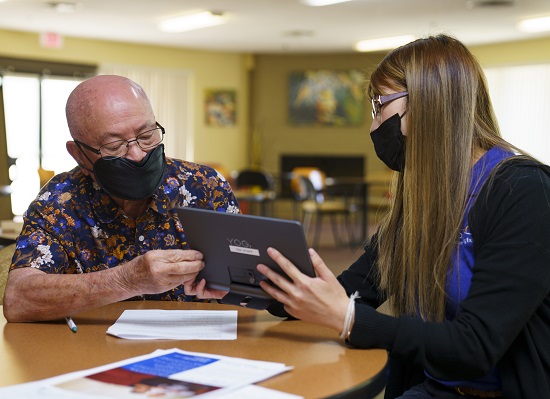 "We engaged in rolling out enhanced Wi-Fi and smart technology, and then really creating a model that could be scaled across Eskaton affordable housing," says Therese ten Brinke, Eskaton's director of strategic initiatives. "We wanted to see elders having access and growing digital literacy all across California. We [did] deep discovery work with residents to understand their needs; we tried not to make any assumptions, and to figure out what they wanted to see for a tech solution."
Eskaton did focus groups, needs assessments, and discovery circles with residents before implementing the program. It learned how many were already using technology, including how many had had telehealth appointments with doctors, for instance.
Front Porch also surveyed residents in multiple languages, asking about wellness concerns and experience with digital devices. Focus groups and interviews showed that about 60% of the population had visual, hearing, cognitive or mobility impairments.
Front Porch started with a "rapid pilot deployment" in 2020, also planning to install Wi-Fi in two residential buildings it manages—Vista Tower and Pilgrim Tower in Los Angeles. When lockdowns went into effect, it settled for installing wireless hotspots, paired with Google Nest Hub Max devices, in one building.
Slowed By Supply Chains
Both organizations have been slowed by the current chip shortages that plague manufacturers worldwide and by supply chain disruptions. In addition, both learned this year that the Lenovo Yoga tablets, which they had chosen for their residents, are being discontinued.
According to Davis Park, vice president of Front Porch's Center for Innovation and Wellbeing, the device selection was based on a good-sized screen, good speakers, and a voice-first interface that has been shown to promote high engagement from users. He says Front Porch was able to secure enough of the tablets to roll out the program in one building. The search for an alternative device is ongoing. Front Porch hopes to have the project implemented in two buildings by the December holidays.
Park notes that the combination of pandemic lockdowns, supply chain problems, and the cost of upgrading older buildings made the project much harder. Because of lockdowns, outside vendors couldn't come into the buildings to evaluate what needed to be done. Supply chain issues also affect the availability of Wi-Fi system hardware.
Residents Helping Residents
For both Eskaton and Front Porch, sustaining such a program, with the inevitable volume of questions and the technical assistance needs of residents, can't simply be dropped in the laps of busy service coordinators.
"We need to have boots on the ground," says Park. "You can't just deploy a program like this without a resident service coordinator, for example, or someone who's able and willing to sustain it. We want to build a sustainable, replicable, and scalable model that really engages with the community and provides residents with the tools to support their health, independence, and well-being. An important element in that vision is building an ecosystem of adoption and support."
Front Porch wants to encourage peer-based learning and support models, in which residents help each other, supplemented by local volunteers and family members. It has established "office hours," a two-hour window each week when residents can meet with staff to work through technology issues. Park says there are already a few residents who know more than most about the technologies, and that residents are helping each other.
Eskaton also uses the office hours approach and has recruited five resident ambassadors at Jefferson Manor—who between them speak Vietnamese, Spanish, Mandarin, and Cantonese—to help others. "Family member support will be very helpful," says ten Brinke, "with the service coordinator as the last resort."
Language and Technology Don't Always Mix
Eskaton's Jefferson Manor is home to a diverse population; nine languages are spoken among residents.
"We knew the model we created had to be really accessible to individuals who spoke many languages, and that influenced the design process," says ten Brinke. "One of the biggest challenges was teaching technology in those languages." Eskaton has recruited a group of volunteers to translate documents.
Lindeman believes accommodating multiple languages will be one of the most important challenges to any effort to increase digital usage among older adults: "We're going to have more and more diversity in buildings, among both staff and residents. This was a real eye-opener for all of us because all of these buildings have at least three different languages. We're going to get all this broadband infrastructure, but how can we be sure to really reach the residents or the end users?"
Front Porch residents in the two buildings also speak multiple languages, including Korean, Chinese, Spanish, and American Sign Language. Language capabilities became an issue in the choice of devices; the Lighthouse team at first considered adopting the Google Nest Hub Max, but its language capabilities posed challenges.
Looking Forward With Lessons Learned
Eskaton's roll-out began at its Jefferson Manor community in July, and was completed on October 6. This Section 202 property has 124 residents in 104 apartments, and was built in 1979. Upgrading the Wi-Fi was the first priority.
Lenovo Yogas were deployed at Eskaton Jefferson Manor, but the Samsung Tab A7 will be deployed at Eskaton Hazel Shirley Manor later this fall. Device selection for Eskaton Lincoln Manor has not been completed.
The roll-out at Hazel Shirley Manor will differ from the initial deployment, thanks to lessons learned over the summer. All 68 residents will receive their tablets over a two-day period during the first week of December, and training sessions and office hours will be held by resident ambassadors during the months to follow.
The devices used by Eskaton will be the property of the residents, and they can be used as desired. Front Porch, on the other hand, retains ownership of the devices.
About 75% of the Eskaton residents have opted into the Lighthouse project. A user's guide is being created in nine languages—in hard copy and on the devices. Staff works with residents one-on-one to customize the devices, downloading desired software and training users on the same day.
CITRIS will gather best practices from the California roll-outs and is creating toolkits and reports that will help other providers implement similar efforts. Examples will include a review of funding sources that support broadband upgrades and technology implementations, a summary of innovative digital training methods and lessons learned from these pilots, and advice for organizations that don't have deep IT capacity.
Park relates the importance of this project to mission.
"It's not easy work, and it's not cheap," he says. "But it really is our responsibility to help our residents stay connected to family, loved ones, and their care circles … access to all the digital tools that the rest of us have. I cannot imagine the day when I don't have a connection to broadband connectivity. […] I cannot imagine a life without this regular digital engagement, and we should not expect any less for our residents in order for them to stay healthy, to stay well, to stay socially connected. This really is for us a social justice issue. We believe that policies and regulations around government funded and subsidized housing communities really need to support these efforts."
Do you have a story to tell? The LeadingAge Story Collector, powered by Greystone, makes it easy to submit yours. Try it now.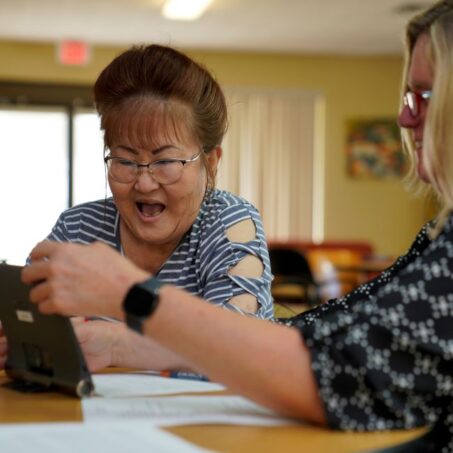 Most Recommended