COVID-19 Elevates Broadband Internet Access to a Right
Back in June of last year, when I wrote about my predictions on how COVID-19 and technology would reshape our future, I identified the increasing dependence on the internet and connectivity in almost every aspect of everyday life from social connectedness, to learning, receiving healthcare, and even shopping for groceries safely from our homes.
Today, we know that the digital divide is one of the most important inequity gaps to address, because our society is growing more reliant on digital technology and the internet for receiving everything from information to entertainment to healthcare, education, and essential supportive services, as the pandemic has clearly demonstrated to us.
At LeadingAge CAST, we encourage all members to join the movement to bring broadband internet access to all older adults. We believe that older adults have a right to accessible, affordable, and adequate broadband internet services, and that our members can be part of the solution.
How LeadingAge Members Tapped Tech to Meet Pandemic Challenges
Early in the pandemic, we all have witnessed the devastating impact the pandemic and all the restrictions on visitation and social distancing have had on the health and quality of life of older adults, who were disproportionately affected by the COVID-19 virus. Older adults have had to isolate themselves and stay at home, wherever home may be. They have had to limit social interactions, even  necessary visits with their caregivers and healthcare providers.
If there was a silver lining to this terrible pandemic, it was how quickly LeadingAge members recognized the value of technology, in general, and broadband connectivity in particular. I'm proud to say that our members creatively found innovative ways to deliver services virtually to older adults in a variety of care settings, including affordable housing. I have heard from many providers who used internet-enabled devices to engage residents in activities and socializing and to facilitate access to telehealth and virtual visits with healthcare professionals.
Over the last few months, we reported on bright examples of affordable housing providers springing into action to connect with older residents, and deliver services where possible. They deployed iPads, personal computers, and low-cost tablets, Chromebooks, and Voice Controlled Devices (VcDs) connected to the internet, in some cases using shared Wi-Fi and even cellular hotspots where needed!
Lack of Connectivity Deepens Inequities
Nevertheless, the pandemic starkly exposed the consequences of digital inequity of older adults, especially among underserved populations, and highlighted barriers to vaccine registration, digital social connectedness, and technology-enabled healthcare services. LeadingAge affordable housing providers witnessed firsthand the decline of health and well-being among the residents of their communities due to the lack of technology devices and broadband.
Indeed, little or no connectivity has deepened health and economic inequities for older adults with low income, who are disproportionately people of color. According to a recent report by AARP's Older Adults Technology Services (OATS), 22 million American seniors (42%) lack wireline broadband access at home. This situation obviously includes many residents of affordable housing, who are nearly twice as likely to lack high-speed internet connections as the general population. In fact, in a recent national survey of service coordinators in federally assisted housing, just over 20% of respondents said that few or no residents have reliable internet access, and only 8% said residents have reliable internet access.
I firmly believe that this pandemic pushed connectivity further down Maslow's hierarchy of needs, and that it should be available to all regardless of living settings and ability to pay for it. I would even add that it is also imperative that the older adults we serve have a right to accessible, affordable, and adequate broadband internet service that allows them to access healthcare services virtually and to stay in touch with family members via video conferencing.
Why CAST Developed Broadband in Affordable Housing Resource
That is why LeadingAge CAST decided to develop the Broadband in Affordable Housing resources to help our housing members, especially those in affordable housing, to better understand the connectivity options available. These resources help them prepare their building infrastructure and encourage them to bring property-wide affordable broadband connectivity to their residents.
The White Paper we released last month provides an overview of the different connectivity modalities, factors that can impact decisions around choosing a modality and network design, including the building's location, type, construction materials, etc. It also explains existing programs, as well as partnership opportunities, providers should explore and potentially tap to bring broadband to their community, wire their buildings, and pay for sustainable internet services.
The Interactive Guide allows busy executives and leaders to quickly skim the white paper, while the accompanying Provider Case Studies bring real-life examples from peers who were successful in connecting their residents to the internet affordably. You can learn more about these resources in this CAST Tech Time article.
New Federal Investments Yield Broadband Opportunities
I am particularly excited about the historic investments in broadband connectivity that the recent Infrastructure Investment and Jobs Act have authorized. The new broadband investment through the Broadband Equity, Access, & Development (BEAD) Program specifically calls out older adults, low-income, and multifamily residential housing communities as beneficiaries. The law directs the National Telecommunications and Information Administration (NTIA) to consult with the U.S. Department of Housing and Urban Development (HUD) on distributing the funds.
I firmly believe that this investment will create a multitude of unprecedented opportunities for affordable housing providers and other LeadingAge provider members providers to get the funding and help they need to bring affordable and adequate broadband connectivity to their residents.
How You Can Help Bring Broadband to All
To reduce the digital gap and provide more equitable access, services, and support to all residents, regardless of income and ability to pay for broadband service, I encourage you to do the following:
Attend the two relevant sessions at the LeadingAge Leadership Summit in DC later this month to learn more,
Help us with our advocacy efforts on these issues, and
Put these resources into action.
I wholeheartedly believe that doing so will help us attain LeadingAge's laudable strategic goals. Together, we will eradicate ageism and promote equity and inclusion among the older adults that we serve, especially low-income populations, racial minorities, and other underserved populations.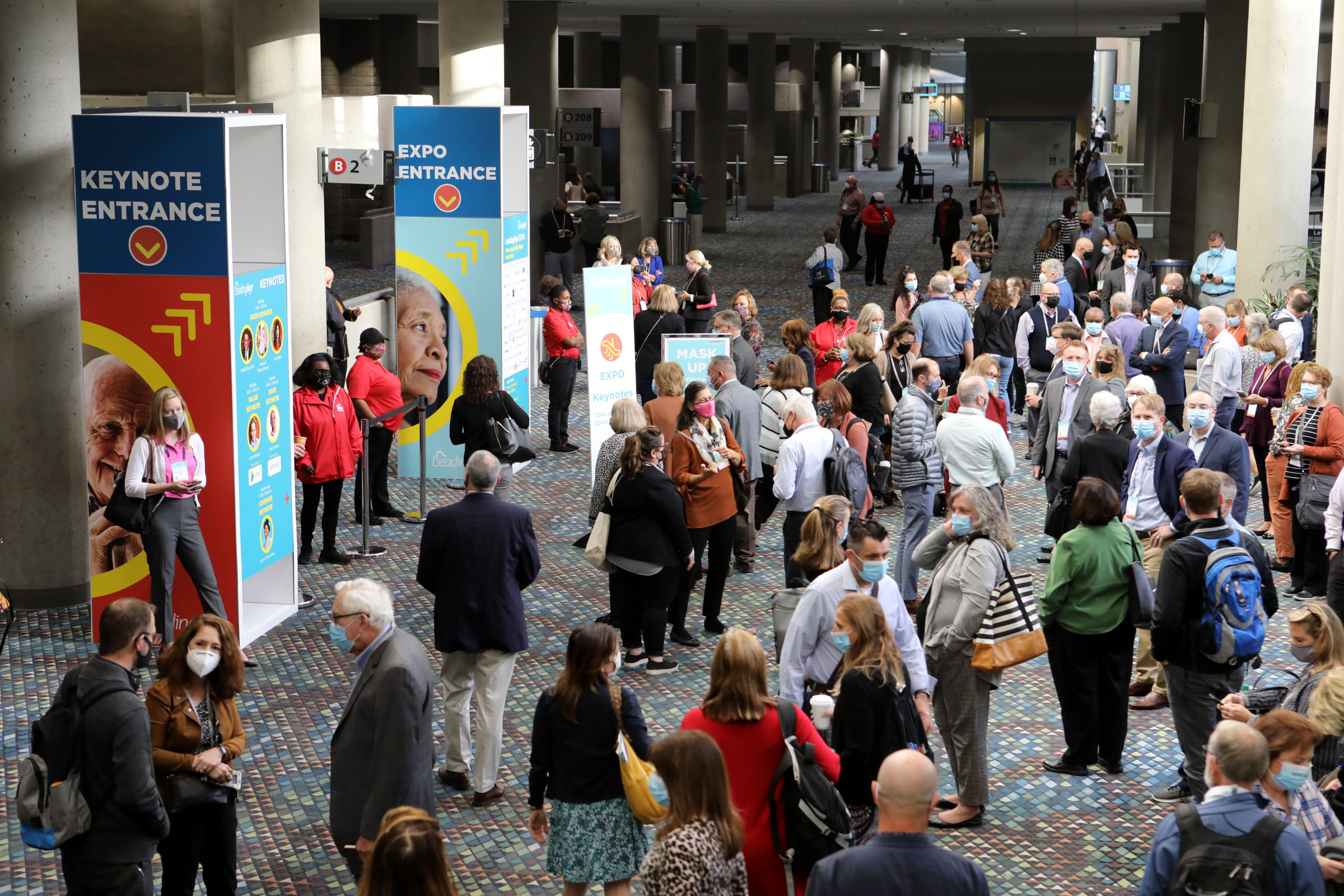 Member Recommended