How CAST Is Helping Address Workforce Challenges
This month, I'd like to share takeaways from the recent 2022 Collaborative Care Tech Summit and let you know how LeadingAge is addressing workforce challenges, and what role CAST is playing.
As you may remember, LeadingAge and the LTPAC Health IT Collaborative hosted the Summit, held online June 7-8, 2022, which focused squarely on the Role of Technology in Connecting and Strengthening the Workforce. Last month, I shared with you media coverage and highlights, including a summary of the Technology Keynote.
Let's review highlights of the three other Summit keynotes.
"Fixing the Workforce Issues Faced by Healthcare and Services Eco-System"
Steven Landers, M.D., MPH, president and CEO of VNA Health Group, spoke of the immense human toll that COVID-19 has taken on healthcare workers. He also focused on the shortages of Registered Nurses, geriatricians, and other doctors, as well as the falling caregiver ratio that will limit families' ability to care for older relatives.
To build capacity, he suggested expanding educational enrollment, especially in nursing programs; enacting immigration reforms that enable more people to work in nursing; and pursuing innovations such as virtual care.
"Empowering Clinicians with Health IT: ONC's Education Programs"
Thomas Keane, MD, Senior Advisor, U.S. Department of Health and Human Services, Office of the National Coordinator for Health Information Technology (ONC), presented the policies, grants, and workforce development programs that advance electronic health records (EHRs).
He also discussed several vehicles that can help improve health IT education: Extending the IMPACT Act to provide incentives to improve interoperability, extending Health Care Control Networks to the LTPAC community, tapping Public Health IT Workforce Grants, reconstituting Regional Extension Centers, extending the meaningful use program to promote interoperability, and tapping Quality Improvement Organizations.
"CMMI's Strategic Direction: New Models and the Role for Technology-Empowered Workforce"
Brad Diephuis, M.D., MBA, senior advisor at the Center for Medicare & Medicaid Innovation (CMMI), Center for Medicare & Medicaid Services (CMS), presented CMMI's five strategic pillars, following a strategic refresh. They include driving accountable care, advancing health equity, supporting innovation and tech development, addressing affordability from a beneficiary's perspective, and partnering to achieve system transformation.
I left the summit feeling inspired and hopeful. If you have missed the Summit, you may still see the program and purchase on-demand access to content.
How LeadingAge and CAST Are Addressing Workforce Solutions
The Summit itself is meant as only one first step to identify both short-term technology-based solutions that providers are using today to address workforce issues, as well as longer-term strategies to mitigate the workforce issues. Such strategies include ones that would leverage technology, technology-enabled care models, and technology-empowered workforce, similar to those identified by the Summit keynote speakers and summarized above.
1)    Workforce Policy Priorities
I can tell you I was thrilled to see the alignment between the strategies proposed by the Summit keynote speakers and panelists and the LeadingAge 2022 Workforce Policy Priorities, especially the following:
Address the pandemic's human toll.
Establish programs and initiatives that address COVID-19 frontline staff fatigue and mental health challenges​​​​​.
Ensure aging services organizations have urgently needed COVID-19 protections for care workers across the continuum.
Build workforce capacity through better pay, immigration opportunities, and training.
Ensure that aging services providers can hire and retain a sufficient number of high-performing staff at all levels.
Provide additional pandemic "premium pay" for essential workers, which includes direct care workers who play a critical role in aging services.
Increase pay for direct care workers to earn at least a living wage (a wage that matches state/local living expenses and conditions). Professionalize the workforce with competency-based training requirements, increased training requirements, and offer career pathways to advancement opportunities.
Enable older adult services organizations to hire foreign-born workers through a range of programs, including some focused on older adults and LTSS workers.
Increase grant funding for training and hiring aging services workers at all levels.
Expand funding to train geriatric nurses and physicians.
In fact, just last week, LeadingAge launched its Aging Services Workforce Now Campaign to advocate for the need for urgent comprehensive solutions to the unprecedented workforce challenges facing our sector. We need your participation, voice, and support to help solve these problems, which we know may take time, but nevertheless need action now!
In the meantime, LeadingAge CAST is actively addressing the challenges that keynote speakers outlined, through educational opportunities, advocacy initiatives, and resources.
2)      Thursday, July 21 Webinar on Telehealth in Different Care Settings
An immediate solution is a webinar on Thursday, July 21, 2022, from 2 p.m. to 3:30 p.m. ET called "Telehealth in Practice: Driving Efficiencies & Improving Outcomes." This LeadingAge Learning Hub webinar focuses on the application of telehealth in different care settings.
3)     Technology and Telehealth Policy Priorities
LeadingAge 2022 Technology and Telehealth Policy Priorities for advancing technology and telehealth include the following:
Continue pandemic flexibilities.
Advocate for permanent changes to Medicare, Medicaid, and commercial payer telehealth policy based on lessons learned from the coronavirus pandemic.
Address payment.
Create an equitable payment policy for the post-pandemic era that balances providers' costs with patient protections.
Reimbursement for home health telehealth visits.
Advocate for allowing home health nurses to bill for services.
Build workforce capacity for technology and telehealth.
Establish health IT education and training for staff in LTPAC providers, similar to the Regional Extension Centers (RECs) that supported small physician practices.
Fund technical assistance resource centers to provide technical assistance for LTPAC providers, similar to the RECs that supported small physician practices.
Promote Meaningful Use.
Advocate for funding and payment incentives, including incentives tied to quality, to assist aging services providers in accessing EHR technology that is interoperable with that of their physician and hospital partners and peers, and encourage the bi-directional exchange of information.
 Allow all nursing homes to use telehealth models to improve care.
4)      LeadingAge CAST Resources
LeadingAge CAST also provides nine Technology Selection Tools, which help aging services organizations learn about various kinds of technology and choose the best solutions for their unique needs. Each tool includes a white paper, selection matrix, online selection tool, and provider case studies.
I'd like to call three to your attention, as relevant to this discussion. The Telehealth and RPM Selection Tool and EHR Selection Tool can help you evaluate these technologies. In addition, the latest version of the Functional Assessment and Activity Monitoring Technology Selection Tool has just been released, with updated information for 15 products. It also adds one new vendor, Point Motion, which leverages the power of music and movement to engage and monitor populations with neurological conditions.
Contact Me
I hope you find these Summit learnings helpful and that you will be able to join future LeadingAge CAST events. If you missed the Summit, you can still register and watch the sessions recordings on-demand, with the exception of the ONC keynote by Dr. Thomas Keane. I also hope that you join the Aging Services Workforce Now Campaign and take action.
As always, if you have news to share with CAST or if I can be of assistance in any way, please do not hesitate to contact me.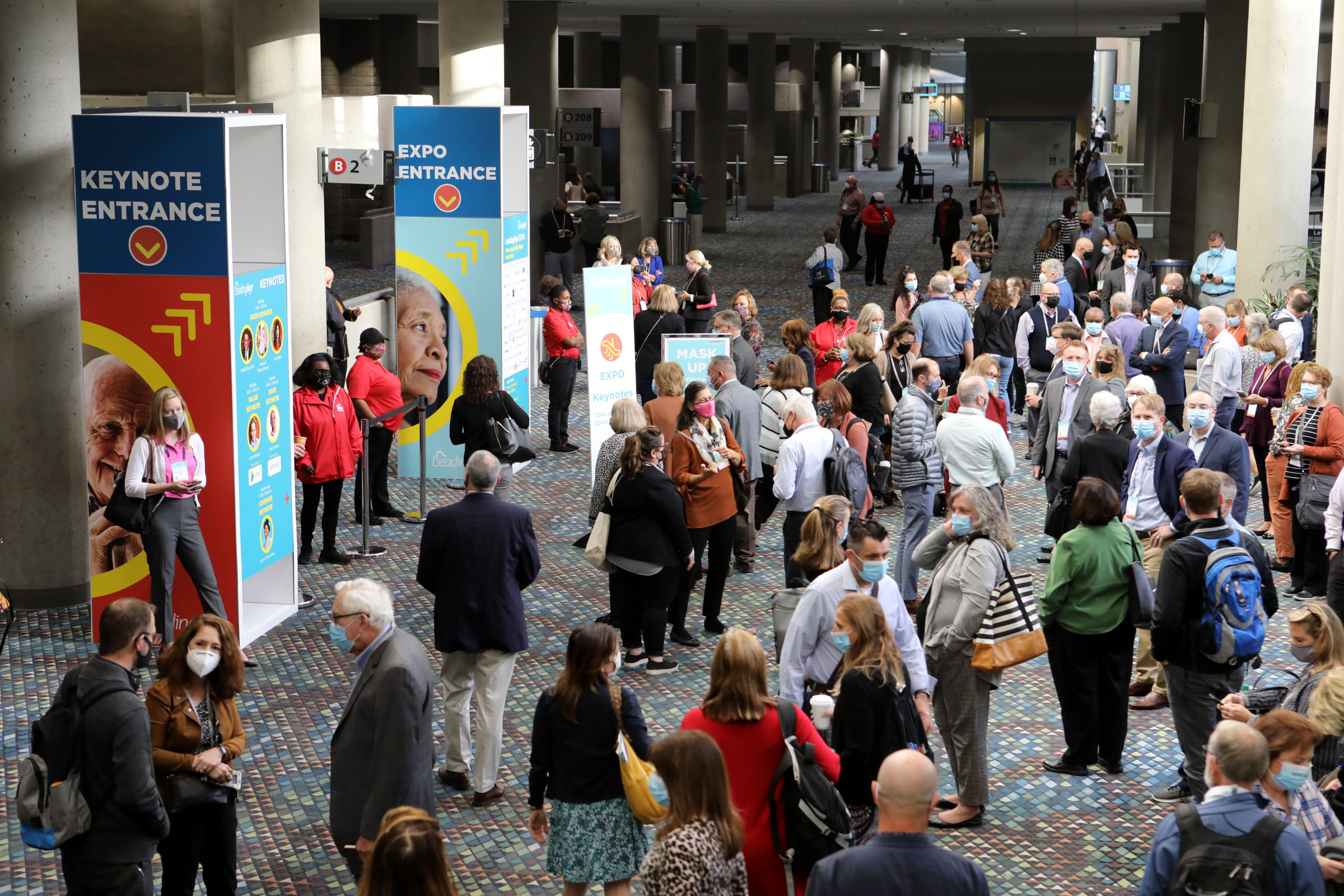 Member Recommended