Miles to Go: Wellness Initiative a Hit with Affordable Housing Residents
Embrace Living Communities, based in Oak Brook, IL, created its "Let's Get Moving Together" initiative as a way to boost health and wellness among residents in its affordable housing communities for older adults. In October, about 200 residents at 16 communities embarked on a challenge to increase physical activities through walking, tai chi, line dancing, chair yoga, and more.
More than 4,000 miles later, residents who participated in the first round of the program showed their approval.
The recurring 12-week campaign offers residents education in healthy cooking, nutrition, and physical activity. The latter includes a walking challenge enabled by wearable fitness devices provided to participants.
After the first 12 weeks, participants had amassed 8,715,045 steps—or 4,358 miles!
Residents were encouraged to track their movements and steps and provide the details to their social service coordinators weekly. Coordinators encouraged friendly competition to increase activity. For instance, some posted paper shoes on a bulletin board tallying the residents total steps. At the end of the first 12-week challenge, one of the communities celebrated its "walk to New York" to celebrate the new year. They decorated the community room with a New York theme, participated in New York trivia, and toasted one another with non-alcoholic cosmopolitans.
The second challenge began on January 15.
A $12,000 grant was provided by the Congregational Church of Deerfield, via United Church Funds (UCF), as support for the program and to purchase the devices. The Deerfield church closed its doors in 2016, and wanted its residual funds to be donated to local nonprofits associated with the United Church of Christ (UCC).
The wearable devices give residents in Embrace Living Communities' HUD 202 and LIHTC properties a greater feeling of independence as they are able to monitor and measure their physical activity, providing them an overall greater sense of control over their health.
Keeping Residents Engaged While Sheltering in Place
The Let's Get Moving Together initiative is part of the organization's efforts to meet resident needs in the new normal of the pandemic. While residents were sheltering in place, Embrace Living Communities' service coordinators used a resident-centric approach to keeping residents engaged. The goal is what Jennifer Truppa, director of social services and quality assurance, describes as "providing opportunities that nurture meaning, joy, self-sufficiency and choice for residents."
"Prior to the pandemic," says Truppa, "social service coordinators connected residents with resources in the greater community. During the pandemic, we had to reverse that and create a way to bring more of the resources safely to them."
Because food insecurity was a reality for many residents, Embrace Living Communities' service coordinators worked with food banks and pantries that supplied fresh produce, dairy, meat protein, and shelf-stable items each week that could be delivered to residents' doors.
Residents received regular check-in telephone calls from service coordinators, along with written materials like newsletters or crossword puzzles. The Embrace Living Communities' team created "daily conversation themes," for example Musical Mondays, when residents were asked to discuss their favorite artists (and sing along with their songs), or Turn Back Tuesdays, focusing on their favorite teachers or jobs. Socially distanced activities were created as well including scavenger hunts, outdoor activities, door-decorating contests, and in one case, a traveling arts and crafts display that showcased the work of residents.
The communities have computer rooms for resident use, and staff help users set up email and social media accounts and learn to use the PCs. However, surveys show that only a minority of residents have their own internet connections or digital devices. The organization is now planning to set up lending libraries that will allow residents to access tablets and Wi-Fi to make it easier for more to participate in online activities.
Read more about Let's Get Moving Together and how Embrace Living Communities supports residents during the pandemic.
This story originated in the LeadingAge Story Collector, powered by Greystone. Submit your story now.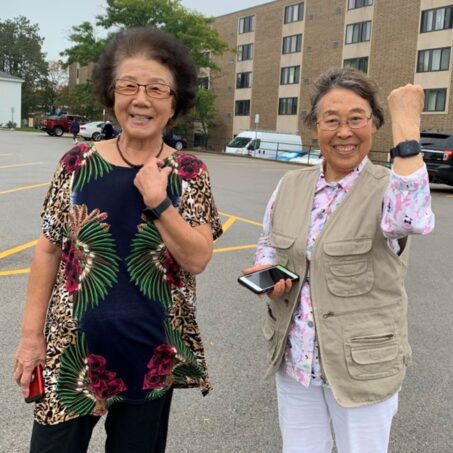 Most Recommended