PHE Will End May 11: What This Means for Nursing Homes
The Biden Administration announced on January 30 that the COVID-19 national public health emergency (PHE) will end on May 11, 2023. While this move signals the next step in our new normal, it has a multitude of implications for our current "normal" operations. CMS maintains setting-specific information on transitioning from the PHE on the Current Emergencies page (long-term care guidance here). Read on for considerations as we move forward.
Medicaid Determinations
During the PHE, states that accepted federal contributions to the state Medicaid program were required to adopt "continuous enrollment" policies that prohibited disenrolling anyone from Medicaid using income-based eligibility determinations. In 2022, states were advised to begin "unwinding" continuous enrollment policies separate from the PHE. However, with the ending of the PHE now announced for May, we may see Medicaid redeterminations and disenrollment coincide with the end of the PHE.
Nursing homes should work with their state Medicaid offices to determine the process for eligibility redeterminations for long-term care residents. Pay attention to income and asset limits and identify residents who may require Medicaid spend-down.
Interim Final Rules
The Centers for Medicare & Medicaid Services (CMS) implemented several interim final rules during the PHE. While some rules and provisions have specified end-dates, others are less clear. Interim final rules are effective for a period of 3 years from the date of publication if CMS does not take further action. We anticipate some type of communication to clarify how requirements will transition out of the PHE and what we can expect moving forward, particularly in circumstances where requirements overlap with recommendations from the Centers for Disease Control & Prevention (CDC).
COVID-19 Reporting Requirements CMS implemented an interim final rule in May 2020 to establish COVID-19 reporting requirements for nursing homes. The rule specified that nursing homes were required to report various data to CDC through the National Healthcare Safety Network (NHSN) system to help measure the impact of COVID-19 on nursing home residents, staff, and operations. The rule further established enforcement mechanisms (civil money penalties) for failure to report data to NHSN and created a requirement for nursing homes to notify residents and families of COVID-19 infections within the nursing home. A May 2021 rule added requirements to report resident and staff vaccination data through NHSN.
In the Calendar Year (CY) 2022 Home Health Prospective Payment System (PPS) final rule, CMS snuck in amendments to the nursing home reporting requirements. These amendments gave the Secretary of Health and Human Services (HHS) flexibility to make changes to reporting requirements, while also adding a sunset date of December 31, 2024 for most reporting except for vaccination status. On May 1, CMS announced that they would exercise enforcement discretion for requirements at 42 CFR 483.80(g)(3), specifically, requirements related to resident and family notifications. When the PHE ends on May 11, nursing homes will continue to report COVID-19 data through NHSN, but will no longer be expected to provide notification to residents and families of COVID-19 infections. Reporting of COVID-19 vaccination status continues through May 2024 or until CMS declares otherwise.
COVID-19 Testing Requirements CMS implemented an interim final rule in September 2020 requiring COVID-19 testing of nursing home residents and staff according to specifications outlined by the HHS Secretary. Currently, these requirements include testing in response to signs or symptoms consistent with COVID-19 infection and testing in response to one identified COVID-19 infection in residents or staff, otherwise known as "outbreak". The parameters of outbreak testing have changed since the initial rule was implemented and now give nursing homes the flexibility to conduct outbreak testing based on identified close contacts and high-risk healthcare exposures.
The rule as published states that these requirements are applicable for the duration of the public health emergency. This means that testing requirements would expire with the PHE on May 11; however, nursing homes should be mindful that nursing homes will still be subject to the "accepted standards" put forth by the CDC. While CDC guidance documents are recommendations, rather than requirements, nursing homes are required by CMS to follow accepted standards for infection prevention and control and therefore will be subject to following CDC recommendations under infection control requirements. We note that this also extends to CDC recommendations on mitigation strategies.
Vaccine Education / Offering CMS implemented an interim final rule in May 2021 that required nursing homes to educate staff and residents on the risks and benefits of COVID-19 vaccination and to offer or assist in accessing COVID-19 vaccination for staff and residents. As this rule did not include an applicability end date, these requirements will not end with the expiration of the PHE. Nursing homes will need to continue to educate and offer COVID-19 vaccination to staff and residents beyond the end of the PHE as part of the Requirements of Participation through May 2024 or until otherwise specified by CMS.
Staff Vaccination Mandate In November 2021, CMS implemented an interim final rule requiring staff, including volunteers, in most CMS-certified settings to complete the primary series of COVID-19 vaccination or be granted an approved exemption in order to work in or provide services on behalf of the certified setting. On May 1, CMS announced that they intend to end this requirement. Termination of this requirement requires regulatory action, which would be published in the Federal Register. Providers must remain compliant with the mandate until then.
Regulatory Waivers
Authority granted under Sections 1135 and 1812(f) of the Social Security Act allowed HHS to implement certain regulatory waivers during the PHE. While many of the waivers put in place for nursing homes early in the pandemic have already been terminated by CMS, a few remain in effect at this time. Most remaining waivers will expire with the PHE, but we anticipate communication from CMS related to any changes and plans for transition.
Telehealth CMS waived requirements at section 1834(m)(4)(E) of the Social Security Act and 42 CFR § 410.78 (b)(2) to expand the types of health care professionals that can provide telehealth services. The Consolidated Appropriations Act of 2023 extended these flexibilities through December 31, 2024 so nursing homes may continue to utilize telehealth for approved services including some physician visits.
Nurse Aide Training CMS implemented a waiver to 42 CFR §483.35(d), (except for 42 CFR §483.35(d)(1)(i)), related to the training and certification of nurse aides. This waiver was terminated in June 2022; however, significant backlogs to training and testing across the country prompted CMS to make available additional waivers at the state, local, facility, and individual level. These waivers were time-limited and applicable dates varied by approval. However, as with other 1135 waivers, they are tied to the PHE and cannot extend beyond the PHE. Any nurse aide training waivers still in effect will end with the PHE if not specified to end earlier in the original approval. As with the original 1135 waiver, nurse aides will have 4 months from the end of the waiver / end of the PHE to complete training and certification requirements to continue working in the nursing home.
Concurrently, a bill has been introduced in the House of Representatives that would allow temporary nurse aides to continue working up to 24 months following the expiration of the PHE and apply time worked toward the 75-hour federal training requirement. Like the waiver, the bill preserves the requirement that nurse aides possess the skills and competencies to provide care.
Qualifying Hospital Stay (3-Day Stay) A waiver of the requirement for a 3-day inpatient hospital stay to qualify for Medicare A coverage of skilled nursing facility services allowed beneficiaries to admit directly to the nursing home for skilled care regardless of and/or in the absence of time spent in the hospital provided the individual met all other criteria to qualify for skilled nursing facility care. This waiver will terminate with the expiration of the PHE, despite a changed hospital landscape. Some hospitals continue to experience surge due to respiratory viruses, leading to a shortage of inpatient beds and cancelling of elective procedures. Moreover, hospital care has changed since the 1965 enactment of this provision. Length of stay has decreased and some procedures have transitioned from inpatient to outpatient due to improvements in technology and efficiency.
LeadingAge has participated in advocacy throughout the PHE to make the 3-day stay waiver permanent and has long supported legislation to count all time spent in the hospital toward the required 3-day stay, colloquially known as observation stays legislation. Most recently, LeadingAge advocated to HHS to make the 3-day stay waiver permanent while we urge Congress to eliminate the requirement entirely.
Benefit Period Waiver This waiver allowed beneficiaries whose skilled services were interrupted by circumstances directly related to the PHE to continue skilled care without first completing a 60-day period of wellness to begin a new benefit period. This waiver will end with the PHE and beneficiaries will once again be limited to a maximum of 100 days of skilled care per benefit period.
Pre-Admission Screening and Resident Review (PASRR) CMS waived requirements at 42 CFR 483.20(k) to allow for admissions to nursing homes without prior completion of the PASARR. Presumably, this waiver assisted hospitals by allowing them to bypass a process that would sometimes delay nursing home admissions pre-PHE, leaving the individual stranded in the hospital until the issue was resolved. This also gave nursing homes more time when the state agencies responsible for PASARR II evaluations experienced access barriers related to COVID-19. This waiver will end with the PHE. Nursing homes may consider reaching out now to common referral sources to ensure they are aware of the waiver ending and have plans in place to complete pre-admission screening to avoid delays in admission. Nursing homes may also consider coordinating with state agencies to determine any anticipated backlogs in completing Level II evaluations.
Resident Roommates and Grouping CMS waived requirements at 42 CFR 483.10(e)(5) to allow nursing homes greater flexibility in containing COVID-19. Due to the need to group residents based on COVID-19 status and often times, to cohort residents in shared rooms based on COVID-19 status, CMS waived the rights of residents to choose roommates or refuse relocation. As cases have decreased and containment and mitigation strategies have improved, the need for grouping and cohorting has changed. When this waiver ends with the PHE, nursing homes will continue effective mitigation of COVID-19 while preserving the resident's right to choose roommates and refuse relocation.
Resident Transfer and Discharge CMS waived requirements at 42 CFR 483.10(c)(5); 483.15(c)(3); (c)(5)(i) and (iv), (c)(9), and (d) to allow for greater flexibility in containing COVID-19. This waiver allowed for the transfer of residents to other facilities or locations for the containment or treatment of COVID-19. As with resident roommates and grouping, declining cases and improved practices have changed transfer needs and when the PHE ends, nursing homes will continue to practice mitigation strategies while complying with requirements for resident transfer, discharge, and relocation including requirements related to advance notice and required contents of notice.
Alcohol Based Hand Rub A waiver of Life Safety Code requirements related to the placement of alcohol-based hand rub (ABHR) dispensers was implemented during the PHE to increase access to ABHR for both residents and staff. This waiver will end with the PHE; however, with the heightened focus on infection control, it seems reasonable that CMS might take action to maintain increased access if the benefits outweigh the risks. Until we know more, providers should take inventory of the locations of ABHR dispensers to determine any adjustments that would need to be made to return to non-waived compliance.
Vaccines, Tests, Treatments, and Supplies
Several programs and initiatives sprang up during the PHE, both at the federal and state levels, to address access issues related to COVID-19 vaccines, tests, treatments, and related supplies. While CMS has announced continued Medicare coverage for vaccines, tests, and treatments under certain circumstances, there are concerns about access to tests used for screening purposes including at-home or point-of-care tests, personal protective equipment, and personnel support. LeadingAge continues to advocate to the Administration for continued access to the supplies and resources necessary to protect residents and staff beyond the termination of the PHE.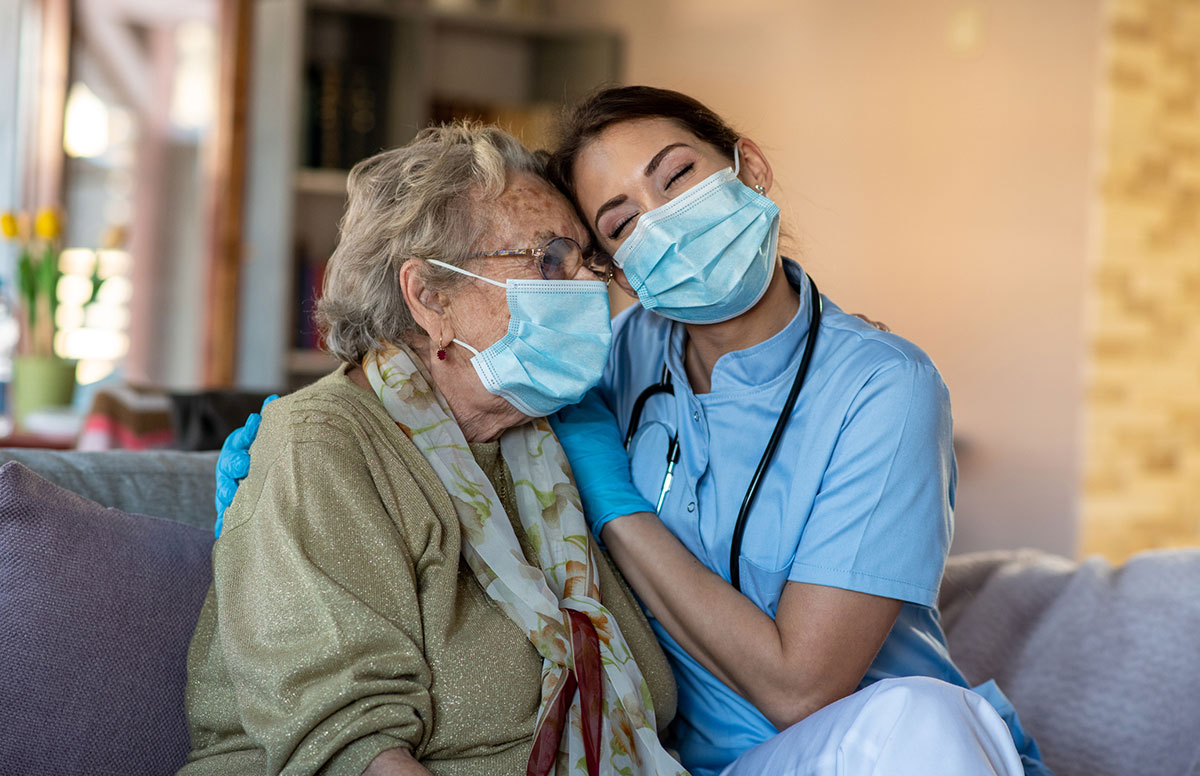 Most Recommended