Smart Speaker Technology Helps Affordable Housing Residents Age in Place
For affordable housing providers, preventing or mitigating social isolation among residents is a constant challenge that can be addressed with technology.
Volunteers of America National Services (VOANS), a LeadingAge member that operates 484 affordable housing properties in 40 states and Puerto Rico, has joined Connected Communities, a program created by the AARP Foundation to install "smart speakers" (e.g., Amazon Echos or Google Nests) in older adult resident apartments.
The program is working in four of VOA's Colorado communities and one in New Jersey. The Colorado sites equip residents with Amazon Echo Dots. In New Jersey, as part of a wellness model inspired by the HUD IWISH demonstration and funded by Parker Life, residents receive Lenovo tablets paired with Google Nest Minis and will have access to a wellness nurse and community health worker. The New Jersey program is called Aging with Options, and VOANS will conduct a three-year evaluation with the LeadingAge LTSS Center @UMass Boston to examine the program's impact on resident health and wellness.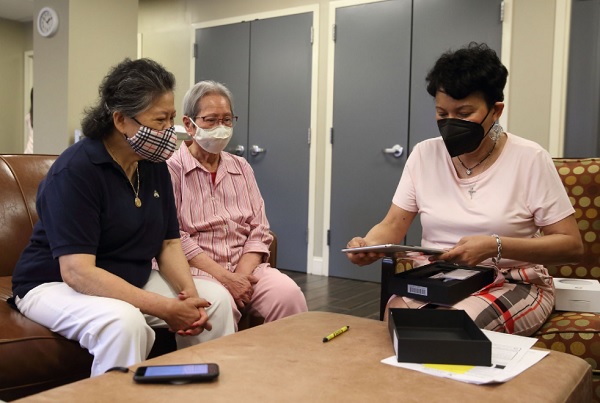 "The idea is to install infrastructure and a training curriculum to help older adults age in place and stay connected with technology," says Ryan Elza, VOANS vice president of innovation and technology. Elza created the program while working for the AARP Foundation, before moving to his current job.
Elza estimates that about 100 residents are participating in Colorado, and about 70 in New Jersey.
Job one is upgrading Wi-Fi capability to allow smooth operation. Typically, this means installing building-wide Wi-Fi so residents will not need to have their own gateways or routers. VOANS asked HUD to allow use of reserve funds to put the infrastructure into those properties. Early on, AARP Foundation made grants to help with implementation, but VOANS is now funding the program itself.
The next step is installation of devices in resident apartments, plus training to help residents get the most out of them. Users learn about hands-free calling; setting reminders for medications, doctor appointments, or social occasions; and accessing health and wellness information. The devices also make it easy to participate in guided exercise programs, not to mention the ease of getting basic information such as the phone number of the store down the street.
"For many residents, this was their first internet access," says Elza. "The voice is older-adult friendly and less intimidating."
The Foundation also built a voice concierge solution for Alexa or Google. "On the back end there is a community management platform for property managers to push out notices to residents," says Elza. "On the resident side, they have the ability to pull information, about events or activities, or to check to see if the mail's in."
Resident service coordinators are trained in the operating systems and can coach residents. In Colorado, staff created color-coded charts to help residents identify different functions. The devices remain the property of VOANS, and residents sign a contract to take responsibility for it, and to return it if they move.
VOANS has other device-driven programs for residents. One is a Google for Senior Living solution by Volara that has installed 600 devices across 12 properties in Florida, Illinois, Louisiana, Kansas, Oklahoma, and North Carolina. The device in this case is the Google Nest Hub Max, a smart speaker with a screen and camera. The devices are preprogrammed for each resident—including each person's desired list of contacts—and shipped to the community for easy plug-in-and-play installation.
Another program involves a partnership with T-Mobile to provide an emergency broadband program with three VOANS PACE sites. T-Mobile donated tablets with 4G access; PACE participants can use them for social engagement and telehealth services. Elza says VOA plans to test a new wellness portal on those tablets to add wellness content and engagement. VOANS is working with state assisted technology programs in North Carolina, Michigan, and Colorado as part of the program.
"Residents are very excited," says Elza. "For many, it's the first time they've been provided technology, and digital literacy training is really powerful for them. Things we take for granted, like video calls, are special moments. People describe it as empowering; they can ask their device a question instead of having to call their son or daughter." Elza says some residents can ask the devices questions that they might be embarrassed to ask a person: "It has allowed them to regain some of that independence." Service coordinators say they are seeing residents join in on technology activities who had never participated in other activities before.
"VOANS believes technology is an important tool in helping residents age in place, and we view it as an opportunity to empower wellness models in our communities," Elza concludes. "We are actively looking to understand how we can deploy technology to all residents and make sure they have the training and education to enable them to reach their individual goals in health and well-being."
This article was inspired by a paper, "Bridging the Digital Divide in Affordable Housing Communities," published by Stewards of Affordable Housing for the Future. Download the PDF for more stories of technology access in affordable housing.
Do you have a story to tell? The LeadingAge Story Collector, powered by Greystone, makes it easy to submit yours. Try it now.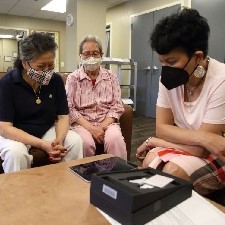 Most Recommended