Virtual Reality Boosts Palliative Care
Thanks to a slate of research findings and successful programs, providers are now using virtual reality (VR) and augmented reality (AR) to help people who are receiving palliative care. VR and AR can improve physical and psychological symptoms and is low cost and easy to use, according to two recent articles.
A recent Hospice News article shared several recent studies and research reviews finding that VR and AR can reduce pain and improve mental health among people receiving palliative care. Outcomes included increased quality of life and improved behaviors. A majority of participants in one study even said that VR sessions brought them joy.
Several providers have incorporated VR and AR into their palliative care services in the past two to four years, increasing quality of life for their patients, according to the Hospice News article. VITAS Healthcare offers VR to help hospice patients manage pain, relax, and travel to places and events that they otherwise would be unable to attend.
Hospice Savannah in Georgia; Emmanuel Hospice in Grand Rapids, MI; and The Elizabeth Hospice in the San Diego, CA, area are using VR to relieve pain and isolation. St. Francis Reflections Lifestage Care, with locations on Florida's East Coast, takes veterans on a virtual Space Coast Honor Flight to see national monuments and related sites of interest to veterans, said the article.
Pros and Cons of VR
A recent article in Forbes Health also recently addressed the use of VR in palliative care. VR's costs are relatively low, with easy setup and little training needed, said Joseph Shega, M.D., VITAS Healthcare's executive vice president and chief medical officer.
However, VR is not for everyone. People at risk of falling should use VR only while sitting or lying down, and people with dementia may become confused when viewing a different environment, Kristie Henry-Roling, an employee engagement manager at St. Francis Reflections Lifestage Care, told Forbes Health. Home or rural settings may not have the infrastructure needed to handle VR's large files.
But in an increasing number of cases, this technology can provide valuable benefits to people receiving end-of-life care.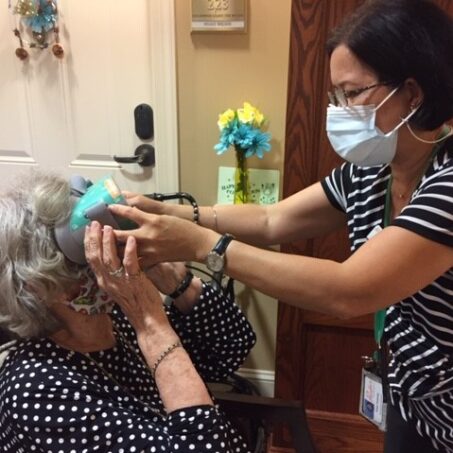 Member Recommended