An Annual "Walk in the Park" that Builds Bonds
On a breezy, sunny day, the sounds of gentle chatter and gleeful laughs float through the treetops on the campus at Three Pillars Senior Living Communities, Dousman, WI.
In a park-like wooded setting, with the Bark River running through the heart of it, the footsteps of 36 employees are accompanied by the smooth roll of wheelchair and walker wheels gliding along the paved path that meanders through the trees and ponds.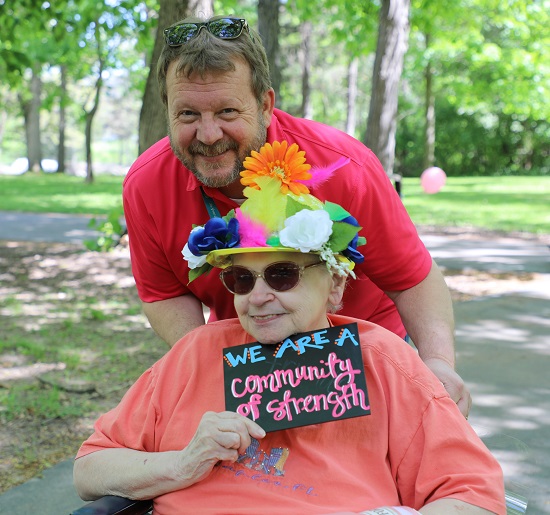 Three Pillars President/CEO Mark Strautman enjoys the 2021 Buddy Walk with resident Barb Packard.
Simple Concept, Big Rewards
Each spring and fall, Three Pillars employees plan the much-anticipated Buddy Walk. Staff from all buildings and departments sign up to participate; each employee volunteer is paired with a resident from skilled nursing or memory care for the special event.
Team members mark the walking path with arrowed signs and festive balloons on long ribbons. Additional signs with conversation-starter topics are placed along the route. For most buddy duos, conversation flows easily during the walk, but for those who like a prompt, they're just right.
Lemonade, apple cider, or other seasonal treats and beverages are set out at the community's park pavilion, the turnaround point in the walk. Fresh flowers and photo-op props are prepared at the tables in the pavilion, in anticipation of buddies who will stop for their refreshments and a photo together before heading back. Staff station themselves along the path to assist and direct traffic as needed, take photographs, and serve refreshments.
There is a mask rule in place for all staff when interacting with residents (plus face shields for personal 1:1 care). Residents who are vaccinated (100% of them in skilled nursing) do not wear masks unless around someone unvaccinated. Staff masks can be removed briefly for Buddy Walk certificate photos but were otherwise worn for the event.
The photos are transformed into beautiful keepsake certificates to commemorate the day. Copies are later delivered to each participant to remember the happy event.
When the walk begins, introductions are made and bonds begin to form between employees and residents. For residents and staff who already know each other well, it's a happy reunion.
Resounding Positive Effects
In addition to providing an enjoyable boost to participants' wellness, the Buddy Walk creates long-lasting bonds that connect staff and residents on many levels. There is built-in time to talk with one another, ask questions, and learn about each other's story. Inside jokes, connections, and bonds are formed.
Perhaps the best outcome of all is seeing staff and residents who may otherwise have never met now look forward to seeking each other in the hallways. An accountant from the billing office now has a dear friend on a wing at skilled nursing, and when he goes for a lunch break, he is sure to take his buddy's hallway to give a special hello.
Written by Kelsey Pangborn, director of customer experience at Three Pillars.
This story originated in the LeadingAge Story Collector, powered by Greystone. Submit your story now.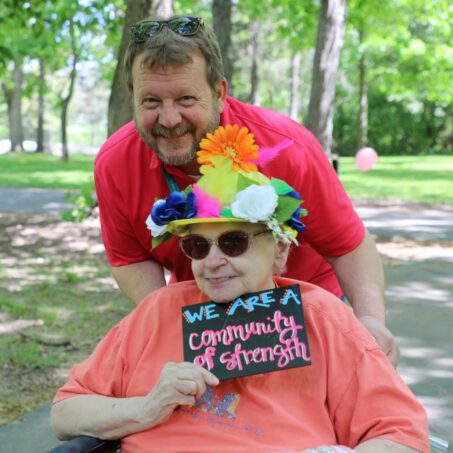 Most Recommended