Bringing Out the Leaders in Staff
For Friendship Haven, a continuing care retirement community in Ft. Dodge, IA, a program of hands-on attention to staff development is designed to promote excellence and bring out the best leadership abilities in employees.
The Friendship Haven Leadership Development Program is a way the organization wants to "encourage everyone to live life with faith, passion, and purpose at Friendship Haven." The seeds of the program were sown when President and CEO Julie Thorson was a fellow of the Larry Minnix Leadership Academy in 2015.
"We've always had a strong focus on leadership, particularly after I attended the LeadingAge Leadership Academy, where my action learning project was to unleash the leadership potential in others," says Thorson.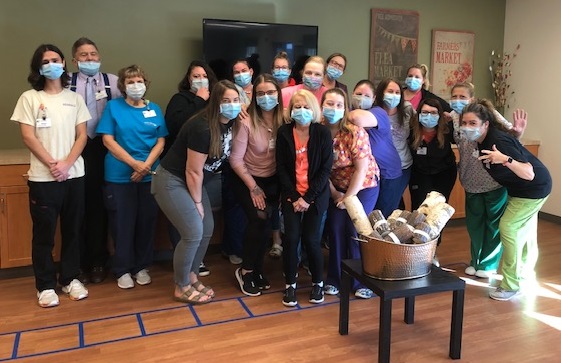 The first leg of the program, the Friendship Haven Experience, is an annual half-day program for all staff. New employees go through the course within their first 30 days of employment, and all other employees attend it annually during their anniversary months. The Experience brings together groups of 15-20 staff at a time, representing a cross-section of all levels of the organization and all levels of experience.
"We bring together employees from all parts of our campus, whether they're housekeepers, maintenance workers, CNAs, nurses, or traditional supervisors," says Thorson. "Everybody [is] together, so they get an opportunity to meet people they don't typically work with."
The precursor of the Friendship Haven Experience (Haven Day) included 30 or more people at a time, but Thorson says the more intimate setting makes it easier for reserved or shy employees to participate in a way they don't in a larger group of 30-plus people.
The sessions include a variety of exercises. One example is "Around the Campfire," with 10 "logs," each representing an element of "The Friendship Haven Way" that is reviewed through a creative exercise. The 10 elements are attitude, respect, communication, teamwork, mission/vision/values, leadership/initiative, ownership/accountability, customer service, appearance, and fun. The sessions are held in the Schmoker Building, which was Friendship Haven's adult day center, which is free because that program had to be closed down by COVID-19.
Thorson, who believes in making hands-on connections with workers, leads the Friendship Haven Experience herself, wearing a Friendship Haven t-shirt and introducing herself as the head coach, rather than CEO. "One of the principles we talk about a great deal is that leadership has very little to do with position or title, and everything to do with character and who we are," Thorson says. "We don't have our titles on our name tags, we have our passion or our purpose. I absolutely think it makes a difference to have that connection."
The second leg of the program, The Friendship Haven Journey, is open to all employees, but is especially aimed at those who will have people reporting to them but don't have leadership experience, and for those employees at any level who show promising leadership abilities. Participants attend 15 hours of sessions (three hours once a month for five months, typically with six people per class). The training covers leadership style, relationships, and work-life balance.
The third leg is the Friendship Haven Academy, for those who will be in leadership or supervisory roles, and have gone through the Friendship Haven Journey. The Academy is a deep dive into leadership—requiring eight full days of programming, two days at a time. Interested staff must apply to be included, and it allows a maximum of 15 participants at a time. The final session of the first Academy class was to be completed in October 2021.
Thorson also does regular one-on-one coaching sessions with many supervisors: "That is something that I started pretty regularly after the Leadership Academy because I wanted to share that experience one-on-one with as many of our leaders as possible," Thorson says. 'They don't report directly to me, but we will take an hour, and pick out individual leadership goals that they want to work on. And I believe for some of them, it's made a big difference in their leadership style, even in communication and active listening, to have the emotional intelligence and patience that you need to offer empathy and understanding. We weave [emotional intelligence] into every aspect of the leadership training we're trying to do."
Struggling With a Workforce in Crisis
Thorson writes a monthly column in the local newspaper, The Messenger. Her Sept. 14 column, "Not everyone is strong enough," is a moving piece about the crisis that LTSS providers are now navigating:
"So, the solution I referenced? Lift long-term care. It is that simple. Change your perception, change your attitude, change the way you think, stop with the jokes, lift all long-term care workers up. Nurses, certified nursing assistants, caregivers, dining assistants, cooks, transportation drivers—everyone deserves respect. Not just a simple thank you, but a deeper understanding of the toll and the pressure that we have all felt protecting lives. Attitudes do make a difference. This should be a cherished field. We are full of people with compassion beyond words."
Friendship Haven is struggling with workforce shortages—it has at least 70 openings right now—and is aggressively trying to recruit new employees. Recruitment messages show up at the top of its website's home page, and it has even rented a billboard at a busy local intersection with a QRS code that job seekers can use to inquire about employment. Shortages aren't limited to direct-care workers either. Thorson says two participants in the Friendship Leadership Academy recently left their jobs as well.
"You have to stay optimistic," she adds. "There are more hurdles, as we work through this, but we're trying to stay focused, because I do believe it makes a difference."
How is your organization increasing wages and benefits to attract and retain direct-care workers? The LeadingAge Story Collector, powered by Greystone, makes it easy to submit your story. Try it now.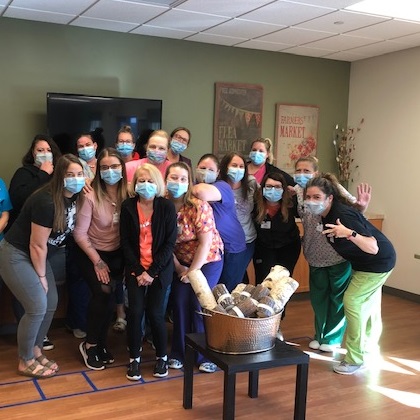 Most Recommended