Nursing Homes |
August 25, 2020
CMS Releases Interim Final Rule on Testing of Nursing Home Staff, Other Provisions
CMS held a phone call for all nursing home providers this afternoon to coincide with the release of an Interim Final Rule with Comments (IFC), addressing COVID testing of nursing home staff and reporting requirements for clinical labs' COVID testing. Any nursing home with a CLIA waiver that conducts laboratory tests (in this case COVID tests, using the antigen testing machine provided by HHS or any other point of care testing), must follow the reporting requirements or face civil monetary penalties.
This article summarizes the provisions in the rule, Medicare and Medicaid Programs, Clinical Laboratory Improvement Amendments (CLIA), and Patient Protection and Affordable Care Act; Additional Policy and Regulatory Revisions in Response to the COVID-19 Public Health Emergency.
In addition to releasing the regulations, key announcements on the call, also summarized in this CMS press release, included:
More details on HHS distribution of antigen testing machines to all nursing homes with a CLIA waiver. To date, 5,593 have been sent out. The distribution will be completed by the end of September.
A new FDA FAQ spelling out that negative antigen tests do not have to be repeated if the person is not symptomatic.
An announcement that $2.5 billion of the $5 billion in Provider Relief Funds for SNFs announced in July, will be distributed this week.
Discussion of PPE supplies and production, noting that N95 masks will be distributed to nursing homes based on National Healthcare Safety Network reporting to CDC.
More details on the call will be provided in a separate article. Sections of the interim final rule most important to LeadingAge members are summarized below with the absolutely essential points highlighted in bold italics. Additional analyses will follow, as needed.
New Enforcement Requirement for LTC Facilities
Effective immediately upon publication of the rule, nursing homes who fail to comply with requirements for reporting COVID-19 data to CDC through NHSN will be subject to the following:
Citation at the scope of widespread and severity of no actual harm with potential for more than minimal harm that is not immediate jeopardy (level "F").
Enforcement of a CMP of $1,000 per noncompliance, and
Increasing increments of $500 per CMP for up to 12 instances of noncompliance.
As outlined previously in CMS guidance, nursing homes that fail to report on a weekly basis will receive a $1,000 CMP that increases incrementally by $500 for each subsequent missed week of reporting. This will cap at 12 weeks ($6,500) due to pre-existing statutory caps.
Requirements for Laboratories to Report SARS-CoV-2 Test Results During the PHE for COVID-19
Section 18115(a) of the CARES Act requires every laboratory that performs or analyzes a test that is intended to detect SARS-CoV-2 or to diagnose a possible case of COVID-19 to report the results from each test to the Secretary until the end of the PHE for COVID-19. And, the Secretary can prescribe the form, manner, timing and frequency of such testing. HHS guidance of June 4, 2020 further indicates that data should be sent to state or local public health departments to facilitate case investigations. All laboratories must report data for all testing completed, for each individual tested, within 24 hours of results being known.
Through a series of amendments, this interim final rule indicates that each laboratory that performs a SARS-Cov-2 tests must report the test results in the form, manner, timing and frequency as prescribed by the Secretary. Failure to submit the results will result in a condition level violation of CLIA regulations. Civil Money Penalties (CMPs) will be $1,000 for the first day of noncompliance with the reporting requirements, and $500 for each subsequent day the laboratory fails to report SARS-CoV-2 test results up to a maximum of $10,000 for each violation.
The CLIA program only collects information about the specific types of tests performed by various laboratories if they are issued a Certificate of Compliance, Certificate of Accreditation, or Certificate of Registration in order to assure the laboratory is meeting CLIA standards for complex testing. Certificate of Waiver (CoW) laboratories have not been required to update their testing menus to the CLIA program. During this PHE there is a need to understand the universe of laboratories performing SARS-Cov-2 testing in order to assure proper oversight. And, information about testing and results is need to understand the incidence, demographics and trends of COVID-19 and to facilitate an appropriate public health response.
Quality Reporting: Updates to the Extraordinary Circumstances Exceptions: SNF VBP Performance Period Changes for FY2022
The SNF Value-Based Payment program for FY2022 would normally be based upon readmission measure performance between October 1, 2019 and September 30, 2020. However, under the public health emergency, CMS granted an Extraordinary Circumstances Exceptions to reduce reporting burden for the SNF VBP reporting requirements for January 1 through June 30, 2020. Therefore, under the interim final rule, CMS is changing the performance period for the SNF VBP program for FY2022 to include data from April 1, 2019 – 12/31/2019 plus July 1 through September 30, 2020. This provides a full 12 months of data for the calculations. Keep in mind, the SNF VBP program uses claims data so there is nothing new for SNFs to report.
Limits on COVID-19 and Related Testing without an Order and Expansion of Testing Authority
In May CMS had stated that to facilitate testing for COVID-19 Medicare would not require and order from a physician or other applicable practitioner for testing. This interim final rule establishes that one single COVID-19 diagnostic test and one of each other related test(such as influenza testing to obtain a final COVID-19 diagnosis) can be provided without an order from a physician or other practitioner. Tests performed without an order prior to this rule will not count toward the one single test going forward.
For the COVID-19 and other related diagnostic tests for which an order is now required, CMS is establishing a policy whereby the tests can be ordered by a pharmacist or other healthcare professional who is authorized to order diagnostic laboratory tests in accordance with state scope of practice and other pertinent laws.
CMS indicates that there are several goals here — to curb fraud and abuse and to ensure that beneficiaries are receiving appropriate medical attention and oversight. CMS believes that expanded telehealth and the ability of pharmacists to provide services incident-to the professional services, and under the appropriate level of supervision, of the billing physician or practitioner should help to ensure that Medicare beneficiaries have access to the COVID-19 testing they need. This section applies to Medicare beneficiaries only and not to group health plans or other types of insurance.
Requirement for Long-Term Care (LTC) Facilities to Test Facility Residents and Staff for COVID-19
CDC Testing Guidelines for Nursing Homes advise nursing homes to conduct facility-wide testing of all residents in response to an outbreak of COVID-19, defined as one single confirmed case among residents or staff. CDC Interim Guidance on Testing Healthcare Personnel for SARS-CoV-2 recommends testing healthcare personnel who: show symptoms consistent with COVID-19, have been exposed to COVID-19, or who work in special settings including nursing homes for early identification.
The interim final rule released August 25 requires that nursing homes test all residents and facility staff for COVID-19 according to parameters to be determined by the secretary. These parameters, to be disclosed in an upcoming CMS memo, may include:
Any diagnosis among residents or staff,
Any symptoms consistent with COVID-19 among residents or staff,
According to criteria for testing of asymptomatic individuals, such as county prevalence, or
According to response time for test results.
CMS specifies that staff includes any individual employed by the facility, any individual who has an arrangement to provide services to the facility, and any individual volunteering for the facility. CMS specifically uses the example of hospice staff as those who may have an arrangement to provide services to the facility. Testing must be conducted according to current professional standards of practice such as the CDC Testing Guidelines for Nursing Homes and nursing homes have the flexibility to choose the type of testing, provided the chosen testing meets nationally-recognized standards and any response time recommendations specified by the secretary. Nursing homes must document all instances of testing, either in the resident's record or in the staff personnel record.
Nursing homes must take action to prevent transmission upon identification of residents or staff who present with symptoms consistent with COVID-19 or when COVID-19 has been diagnosed. Actions may include cohorting residents or restricting staff from work. This means that any staff showing symptoms consistent with COVID-19, even without a positive test result, must be restricted from work. The secretary will determine criteria for when staff may return to work.
Nursing homes must have a plan for staff and residents who refuse testing. They must coordinate with state/local health departments or tribal authorities on issues related to testing including availability of testing supplies, obtaining testing supplies, and obtaining test results.
Infection prevention and control plans must include accessing adequate supplies and obtaining supplies. Testing plans must include any arrangements necessary to conduct, process, and receive test results. The staffing plan in the emergency preparedness plan must assess the minimum number of staff needed to adequately meet the needs of the nursing home and nursing homes must be prepared to make certain changes to address staffing needs, including those outlined in CDC Strategies to Mitigate Healthcare Personnel Staffing Shortages.
Nursing homes continue to have the discretion to deny in-person visits from the ombudsman but must ensure residents have access to the ombudsman, such as by telephone or virtual visits. Nursing homes may not deny entry to surveyors. Denying entry to a surveyor would be in violation of the nursing home's statutory obligation. While there is currently no federal requirement for testing of surveyors, state survey agencies are responsible for ensuring that surveyors follow CDC guidance for infection control and return-to-work.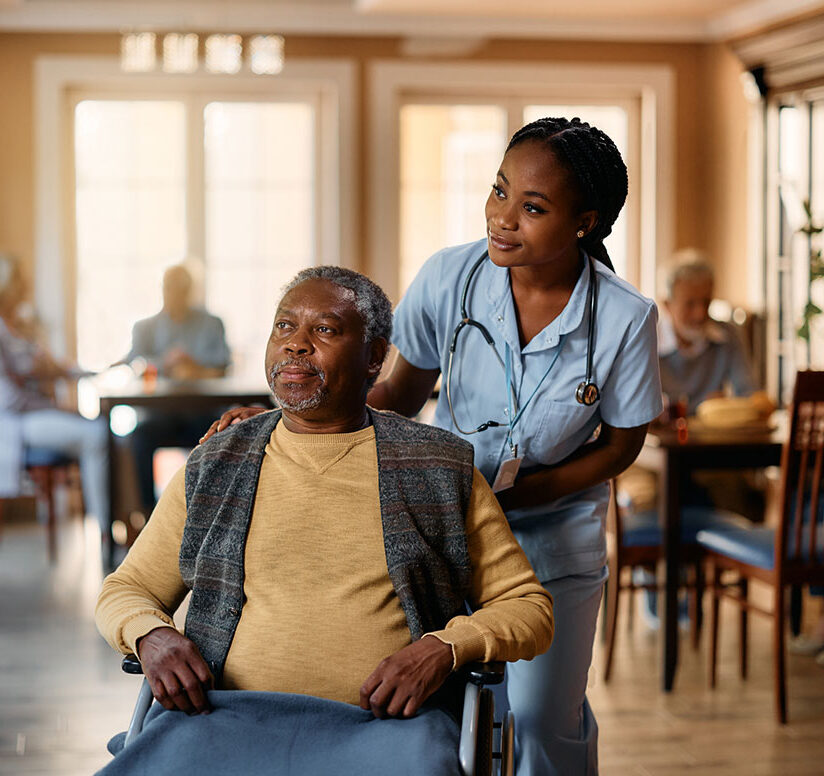 Member Recommended