'Employees with a Heart' Build Better Jobs with this Provider's Help
Editor's note: This story was submitted to the LeadingAge Story Collector by member Mollie Clark, director of marketing for Perry Lutheran Homes, a three-campus full-continuum provider in Perry, IA.
Across the nation, long-term services and supports providers struggle to fill open positions. As one part of a multi-pronged approach, Perry Lutheran Homes launched its StepUp Career Advancement Program in 2021 to build a stable, direct care workforce of highly trained and committed nurses, nurse aides, and other long-term care staff.
"There's a huge difference between providing basic care and providing personalized, high-quality care," says Melissa Gannon, COO and administrator. "We don't want employees to be here for just a paycheck. We look to hire and develop employees that desire to fully engage in what they are doing and have a genuine passion for providing the best care possible."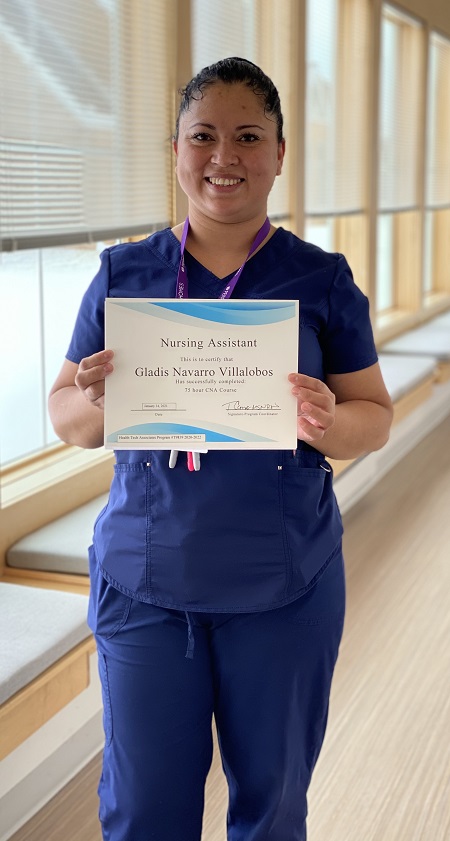 The StepUp program is a pathway for Perry Lutheran Homes employees in any position to earn certifications and degrees through promotion, higher education, and tuition reimbursement. In return, employees commit to work an agreed-upon time for the organization. We have established a partnership with Des Moines Area Community College (DMACC) as the local educational institution of choice for the program, though participants can go elsewhere for training if necessary.
Funding for some of the CNA/CMA training comes from DMACC's Workforce Training Academy. The DMACC program offers tuition assistance and designates staff to help unemployed and underemployed central Iowans qualify for free tuition, books, and supplies. Perry Lutheran Homes foots the bill for all other schooling and certifications.
So far, 11 employees have gone through the program. Eight became CNAs; the three others earned, respectively, a Certified Dietary Manager credential, a Certified Activity Director credential, and a National Activity Director certification.
Now, 17 more employees are going through the program. Six are seeking CNA and/or CMA credentials; one is pursuing a SHRM specialty credential in human resources; and 10 are in a program for Certified Dementia Practitioners (dietary, environmental services, therapy, marketing, and nursing).
The StepUp Program also includes a "spotlight" feature that empowers team members to catch one another doing good and recognize them on the spot for going above and beyond. In addition, managers can give on-the-spot bonuses to instantly reward an employee for going above and beyond for a resident, a family, or another staffer.
The StepUp Scholarship Program, just launched in 2021, works with area high schools to promote careers in long-term care and help to fund higher education for scholarship winners. Perry Lutheran Homes plans to give up to seven scholarships of $250 to $1,000 each year.
In addition to the StepUp Program, we work to provide competitive pay, generous benefits, and to reward excellent performance and attitudes through our unique "bid-your-raise" program to empower employees. When we see employees with a heart who are motivated, we look for ways to help them develop.
Acorns & Oaks intergenerational daycare is located at Perry Lutheran's King's Gardens campus, which offers skilled nursing and memory care. Six to eight employee families take their children to the daycare for a discounted rate. (See a touching video about the intergenerational magic at the King's Gardens campus.)
It is our responsibility as leaders to build awareness, to advocate, and to support staff in every way possible. Many of those who earned or are working on their degrees started out in environmental or culinary services.
One alumnus of the StepUp program, Gladis Navarro, began with Perry Lutheran Homes as an environmental aide in 2020. She is passionate about caring for our residents and considers them to be her family. She was among the first to obtain CNA certification, in 2021.
"I wanted to help our residents even more by becoming a CNA. I love our team and our residents," she says. Next up for Navarro will be her CMA certification.
Overall, the StepUp Career Advancement program positively impacts every aspect of Perry Lutheran Homes, lowering recruitment costs, improving employee retention, and increasing quality of care.
This story originated in the LeadingAge Story Collector, powered by Greystone. Submit your story now.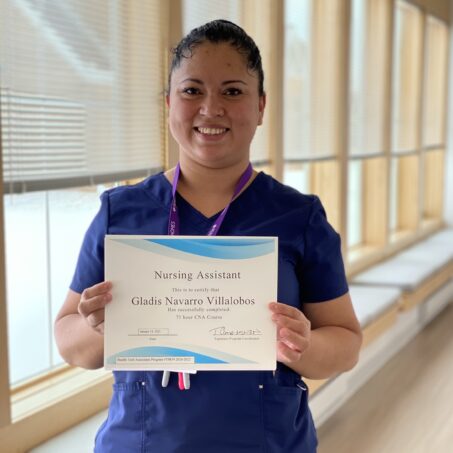 Most Recommended