Nursing Homes |
July 29, 2022
LeadingAge Nursing Home Network – July 2022
The LeadingAge Nursing Home Network met on July 26 to review recent nursing home policy updates and share feedback among members. Lieutenant Commander Kara Jacobs Slifka, MD, from the Centers for Disease Control and Prevention (CDC) joined the call to review the CDC's updated guidance on enhanced barrier precautions and take questions from members. Register for the Nursing Home Network here. Check out the Nursing Homes page on the LeadingAge website here.
Enhanced Barrier Precautions
The CDC updated guidance on enhanced barrier precautions (EBP) in mid-July. Jacobs Slifka reminded LeadingAge members that the EBP guidance is not new, having first been released in 2019, and relates specifically to multidrug-resistant organisms (MDROs). Both CDC and CMS have been concerned about the increase of MDROs over the years and CMS recently added a section on MDROs to the Infection Control section of the long-term care surveyor guidance, released on June 29.
Jacobs Slifka stated that EBP are meant to be less restrictive than traditional contact precautions and will allow nursing home residents to be more engaged in the nursing home community, while protecting a larger portion of the population. EBP are indicated for residents with infection or colonization of an MDRO when contact precautions do not apply, and residents with wounds or indwelling medical devices, as these residents are at an increased risk of becoming colonized with an MDRO. Jacobs Slifka clarified that abrasions and skin tears would not be considered wounds for which EBP are indicated. EBP would also not be indicated for indwelling medical devices such as pacemakers that provide no entry point into the body.
EBP should be used during high contact care activities such as morning care activities including bathing and toileting, transfers, dressing, and hygiene care and Jacobs Slifka stated that, when considering EBP, providers should be looking at the amount of time spent in close contact during care activities. For example, EBP would be indicated for transfers taking place during morning care activities because the staff member is spending a prolonged amount of time in close contact with the resident during the course of providing care. However, EBP would not necessarily be indicated for an isolated transfer from a wheelchair to a sitting chair in a common area during an activity.
Jacobs Slifka noted that there is concern about the risk of contamination from the use of EBP by individuals not properly trained in the use of personal protective equipment (PPE), such as during activities and in the Beauty Shop, which is why EBP would generally not be recommended in these circumstances. Rehab therapy would be an exception, however, and EBP should be used as indicated during rehab therapy and in the therapy gym.
Jacobs Slifka additionally reminded members that CDC discourages storing the necessary PPE in the residents' rooms, as resident rooms are environments where MDROs are likely to be found and storing the PPE in this environment risks contamination, further increasing the risk to the resident.
More information on CDC recommendations can be found in this guidance and this Frequently Asked Questions document.
Policy Updates
Updated Long-Term Care Surveyor Guidance On June 29, CMS released memo QSO-22-19-NH announcing updates to the State Operations Manual long-term care surveyor guidance. The updated guidance has a compliance date of October 24, 2022 and covers broad sections of the Requirements of Participation (RoPs) including new phase 3 guidance, updates to phase 2 requirements, guidance on arbitration agreements, updates to Chapter 5 of the State Operations Manual related to investigating complaints and facility-reported incidents (FRIs), and the Psychosocial Outcome Severity Guide that directs surveyors in determining severity levels of citations. The various guidance documents can be downloaded here.
LeadingAge is working to provide tools and resources for each section of the updated guidance. The RoPs Compliance Update on August 2 will provide an overview of all sections and discuss strategies for implementation. This virtual update is free for LeadingAge members and will not be recorded. To date, LeadingAge has additionally released QuickCasts covering changes to F-tags related to Abuse and Neglect and Admission, Transfer, and Discharge. A series of implementation checklists related to these and other guidance updates are available on the LeadingAge Nursing Homes RoPs Tools and Resources page. Be sure to keep an eye on this page and the LeadingAge Learning Hub for new resources. Resources can be identified by the title "New Nursing Home RoPs Guidance 2022".
Advocacy to HHS on Nursing Home Recommendations LeadingAge sent a letter to HHS Secretary Xavier Becerra on June 28 advocating for expedited changes to COVID-19 recommendations and requirements for nursing homes. LeadingAge noted that nursing home staff and residents experience more restrictive recommendations than other healthcare settings and the general public despite showing better rates of COVID-19 boosters than their cohorts in the general population. LeadingAge specifically advocated for eliminating quarantine of newly admitted / readmitted residents with no known exposure, eliminating work restrictions for asymptomatic staff with close contact exposure who test negative, and eliminating routine screening testing of asymptomatic staff. Read the letter here. Additionally, LeadingAge has been advocating during conversations with CDC to re-evaluate source control measures to determine if the recommendation for eye protection could be removed except when performing aerosol-generating procedures.
Incorporation of Staffing Measures into the Five Star Quality Rating System With the July refresh, occurring on July 27, nursing homes will now see the new staffing measures incorporated into the Five Star Quality Rating System. The measures, first reported on Medicare Care Compare in January 2022, include total nurse staffing hours, total nurse staffing hours on weekends, RN staffing levels, total nurse turnover, RN turnover, and administrator turnover. These 6 measures will be incorporated into scoring in the Staffing Domain and will impact the overall Five Star Quality Rating. More information on weights, scoring, and calculations can be found in the Care Compare Nursing Home Five Star Quality Rating System Technical Users' Guide.
Delayed Response to Burden Reduction Rule In July 2019, CMS published to the Federal Register "Medicare and Medicaid Programs; Requirements for Long-Term Care (LTC) Facilities: Provisions to Promote Efficiency and Transparency", a rule that proposed significant revisions to the long-term care Requirements of Participation (RoPs). Notably, the rule proposed changes to yet-to-be-implemented phase 3 requirements including Infection Preventionist hours and the Compliance and Ethics program. The rule was never finalized and phase 3 was implemented as written in November 2019. However, CMS was required to respond to this rule and the deadline for response was July 2022. On July 14, 2022, CMS filed an extension in the Federal Register, giving them until July 2023 to respond to the rule. CMS stated that they are reviewing the provisions of the proposed rule and comments received on the rule in 2019 to determine how to proceed. Review the main provisions of this rule here.
Aging Services Workforce NOW LeadingAge launched Aging Services Workforce NOW on July 13. This campaign, previewed to the Nursing Home Network on our June member call, is a coordinated advocacy campaign to address the workforce crisis facing aging services. Campaign activity includes a Congressional Virtual Briefing, a Virtual Day of Action, Administration briefings, Administration meetings, an Action Alert series, Administration and Congressional letters, and state-level Coffee Chats focused on workforce issues. Learn more here.
Novavax Vaccine The Food and Drug Administration (FDA) has authorized and CDC has recommended the Novavax vaccine for COVID-19. This new vaccine uses a protein subunit, similar to vaccines developed for flu and whooping cough, and may help improve vaccination and booster acceptance among long-term care staff and residents who are uncomfortable with the currently authorized mRNA vaccines. Recalling that nursing homes are required to provide education and offer vaccination to residents and staff, members can find more information about this new vaccination option here.
Member Feedback
Members expressed ongoing frustration with COVID-19 mitigation measures that are more restrictive than measures employed in hospitals and other healthcare settings. Specifically, members noted that residents and families continue to pressure nursing homes to adopt CDC recommendations for the general public and become frustrated when newly admitted residents are quarantined when they were not quarantined in the hospital, or when residents remain on isolation for an extended period of time compared to isolation times for those in the general public. Members also expressed concern about the continued use of eye protection during care activities. LeadingAge continues to advocate with Health & Human Services (HHS) on these issues, urging HHS to update nursing home recommendations.
The LeadingAge Nursing Home Network call takes place on the last Tuesday of every month. If you are a LeadingAge nursing home member and would like to join this group, you can register here. Your LeadingAge login is required to register. If you do not have a LeadingAge login, you can create one here using your work email address. Our next monthly call will take place Tuesday, August 30 at 2pm ET.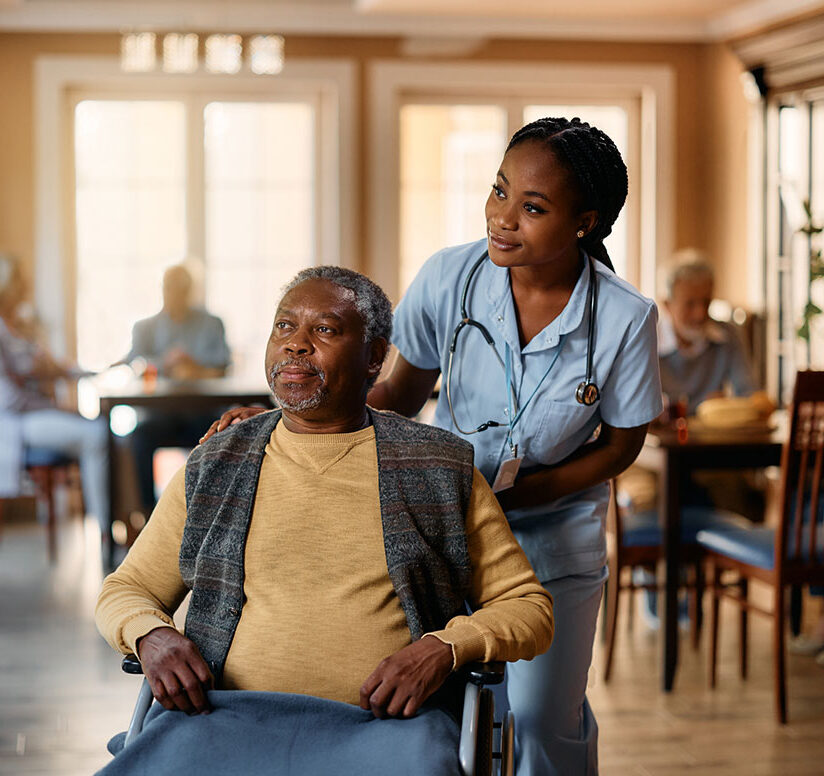 Member Recommended