Living Their Best Lives in the Place They Call Home
For many older adults, understanding the variety of services available to them, and more crucially, securing access to them, is a challenge. As we celebrate Older Americans Month, LeadingAge's new Keep Leading Life public awareness campaign, part of the Opening Doors to Aging Services initiative, is dedicated to showcasing the scope of resources and options available to older adults.
With the supports they need to live their best lives, older adults, their families, and our communities are all better off. Here are the stories of several older adults who are aging their way with the help of creative, accessible services from LeadingAge members.
Carl Noble
Carl Noble was never one to fear a tough life or hard work. So, when he found himself homeless in his retirement years he didn't lose hope–he persevered.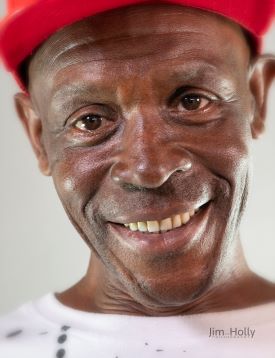 Noble served in the U.S. Marine Corps, stationed in Okinawa, Japan, and was a member of the Marine Corps boxing team. After serving his country, he had a 28-year career working in shipyards before he retired.
In retirement, Noble could not afford his own place on Social Security alone, and eventually became homeless. It was then that Noble came to the Gary & Mary West Senior Wellness Center, part of LeadingAge member Serving Seniors, a nonprofit dedicated to helping seniors in poverty live healthy and fulfilling lives with housing, meals, and wellness services. He was connected with a social worker, who helped him get into Serving Seniors' Transitional Housing Program, which provides temporary housing and supportive services to homeless seniors as a stepping stone to permanent affordable housing.
Three months later, Noble got the call that would change his life forever. He had been approved for permanent housing at Serving Seniors' Potiker City Heights Senior Residence, a tax-credit property that provides affordable housing for those 62 years and above, with incomes that range from 30% to 45% of the area median income.
Noble still visits the Wellness Center every day to eat breakfast and lunch. He says, "If it wasn't for this place, I would only be able to eat two weeks out of the month. If it wasn't for Serving Seniors I would be homeless."
Bonnie Berthiaume
Bonnie Berthiaume was diagnosed with multiple sclerosis (MS) 36 years ago. Now 70, Berthiaume uses a wheelchair but is more active than ever. She has gone skydiving three times, and enjoys frequent outings to the mall, casinos, and restaurants.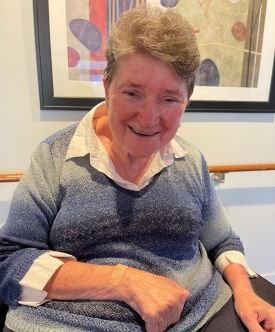 Berthiaume is a resident at the Leonard Florence Center for Living (LFCL), part of Chelsea Jewish Lifecare in Chelsea, MA. LFCL, the country's first urban Green House, is unique–a nonprofit skilled nursing community that includes 30 rooms devoted to people diagnosed with amyotrophic lateral sclerosis and MS.
For Berthiaume, the hardest part of her MS diagnosis was the fear of losing her independence. As a former daycare center owner, she lived an active life, and closing her business was extremely difficult. When she could no longer live without assistance, she moved into a traditional nursing home, where she shared a shower room with 40 people. Nine months later, she moved into LFCL after it opened in 2010. "Living at the Center is a stark contrast from my first nursing home," says Berthiaume. "Here I can feel young again."
She keeps busy with activities, friends, and the joy of living each day to the fullest. "The Leonard Florence Center gave me back my dignity and respect," she says. She often speaks on behalf of the Center.
Berthiaume is fond of a Laura Wilder quote she shares with her grandchildren. "Remember me with smiles and laughter as that's how I'll remember all of you. If you only remember me with tears and sadness, then don't remember me at all."
Maki Joslin
Maki Joslin, a native of Osaka, Japan, is a client at Oakwood Creative Care's Town Center Day Club in Mesa, AZ. Joslin, age 72, is living with Alzheimer's, and her exposure to art at the center has led to a new passion.
Always interested in the arts–she and her brother once formed a folk group inspired by Peter, Paul, and Mary–Joslin was introduced to Japanese floral arrangement as a child. Though she learned because of her grandmother's wishes, Joslin's interest in the art grew and she became proficient. As an adult, she owned a successful chain of flower shops in several countries.
Oftentimes, Alzheimer's leaves older adults like Joslin and their families feeling isolated and defeated. When she began attending Oakwood Creative Care, a multi-site nonprofit adult day provider, she was given supplies for flower arrangements, and, according to Communication Specialist Trista Escobedo, "The powerful thing about it is that she jumped right back into it like she had never missed a day."
Joslin created a floral arrangement that then inspired an interest in painting. The day program has reignited her creativity and inspired new skills as a visual artist using acrylic paint, watercolor, and sketching. "This is a great place for me to do something that [allows me] to work with my hands," she says.
Clients like Joslin will have even more options this summer, when Oakwood Creative Care opens its new "Dementia Hub," featuring a multidisciplinary team to work with family caregivers and the client living with dementia. The dementia hub will have a community center attached to it, to include a memory cafe, classes for caregivers, and opportunities for socialization. Home visits and assessments will enable personalized plans to help elders stay at home and to support the caregivers. The new concept is being funded with help from a $1 million, three-year grant from the Administration for Community Living.
Adele Parenti
Adele Parenti, a resident at Trinity Community at Miami Township, a United Church Homes independent living community in Dayton, OH, benefits greatly from the attention and services provided by Resident Services Specialist [service coordinator] Cati Caldwell.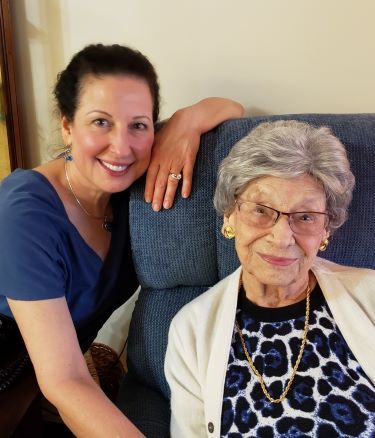 Parenti's daughter Linda, who lives nearby and visits her mother frequently, at first believed the services Caldwell could provide might not be necessary. But she changed her mind when she saw how service coordination can make a difference in her mother's day-to-day life.
"Trinity […] provides wonderful aid and support, but my mother was also very much in need of companion visits," Parenti says. "Cati stops twice a week at my mother's apartment to simply visit with her. She gives my mother the gift of friendship and conversation which brightens mom's otherwise long day.
"Seeing my mother on such a regular basis also gives Cati insights regarding my mother's well-being which I would otherwise miss," Parenti adds. "For example, my mother's mobility was declining and Cati alerted me to an added benefit from Medicare regarding in-home physical therapy visits that had become available due to the COVID-19 lockdowns. She was able to provide several physical therapist recommendations and explained how to set up coverage. She also has served as a valuable resource whenever I've needed referrals to area specialists."
The benefits of service coordination for retirement-community residents like Adele are now becoming accessible to those who remain in their own homes. Access to such services can keep clients healthy, independent, and engaged in their communities. United Church Homes' NaviGuide program is one example, bringing service coordination to clients living off-campus. NaviGuide staff provide initial in-home assessments and a monthly membership plan that gives clients personalized attention, help finding services they may not know are available, and assistance in accessing transportation, meals, household services, and more.
Glen
Life has dealt Glen many tragedies and challenges, and yet he has maintained a generous spirit and, thanks to an affordable housing community operated by LeadingAge member Mercy Housing, has found a permanent home that enables him to help others while fighting his cancer diagnosis.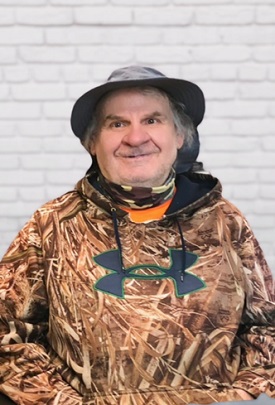 Glen's parents passed away when he was 14 years old, and he then lived with his grandparents. He graduated high school early, married at 16, and began his long career in construction. Tragically, his wife died in her 20s after giving birth to their daughter, leaving Glen as a single parent. His daughter also died young, at age 22.
"My proudest moments were spent raising my daughter," Glen recently shared. His love for her is obvious as he becomes choked up when talking about her.
Glen moved to Colorado, where he built a successful construction business. A cancer diagnosis left him with unsustainable medical bills, forcing him to sell his home and leading to 11 years of homelessness. Even then, Glen found ways to serve the community by volunteering at Denver's Senior Support Services, doing maintenance on weekends.
Just over a year ago, two Denver Police officers met Glen. That was the day that changed his life. They got Glen off the streets and into a nearby hotel, where he soon learned that an affordable apartment had become available at Mercy Housing Francis Heights in Denver.
His fight against cancer continues, but Glen refuses to sit still. He volunteers five days a week at Francis Heights, delivering Meals on Wheels to his neighbors. On movie nights, Glen provides snacks and refreshments, and for the community's weekly Brown Bag Ministry, you can find him setting up the tables and dividing food for the entire community.
He uses a walker and is now saving for a new power chair, at the recommendation of his oncologist. He realizes that time may not be on his side, but still finds gratitude for the life he lived and continues to live. See Mercy Housing's Older Americans Month blog post for more details on Glen's story.
"Money makes your life easier," says Glen, "but once I became homeless, I realized it wasn't everything. I have been enlightened by how many people do need help and how I can make a difference."
Do you have a story to tell? The LeadingAge Story Collector, powered by Greystone, makes it easy to submit yours. Try it now.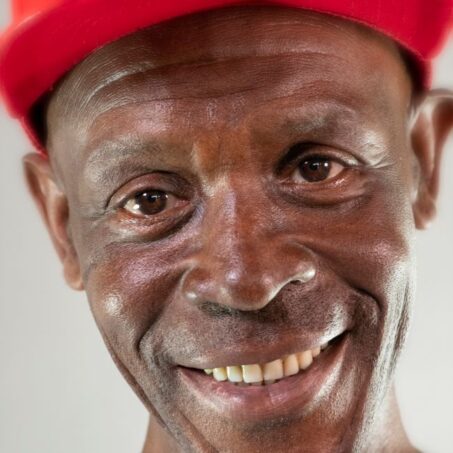 Most Recommended