Pairing Jobs and Training for a New Generation of Employees
Faced with a direct care workforce crisis that has been accelerated by the trauma of the pandemic, long-term services and supports (LTSS) providers are trying to find creative ways to boost recruitment and retention. One promising approach is to partner with high schools in programs that prepare students for LTSS careers and give them work experience in the field.
Recruiting At-Risk Students in Wisconsin
LeadingAge Wisconsin is piloting a Geriatric Career Development (GCD) program focused on helping at-risk students explore careers in LTSS. According to Janice Mashak, vice president of member services and innovation, the term "at risk" refers to students who are at risk of not graduating from high school because they have dropped out, lack course credit, or are truant or delinquent. The goal is to provide the students job opportunities through participating long-term care providers, while helping the students improve their academic work and stay in school.
LeadingAge Wisconsin's GCD program is built on the Geriatrics Career Development Program model pioneered 15 years ago by The New Jewish Home in New York City. The seeds of the Wisconsin program were sown four years ago, when Mashak learned about the New York program, and a representative from The New Jewish Home did a presentation at a LeadingAge Wisconsin conference.
Grant funding enabled the recruitment of one member—Milwaukee-based Ovation Communities—to pilot the GCD. A three-day learning trip to The New Jewish Home prepared Ovation staff and Mashak to launch the program.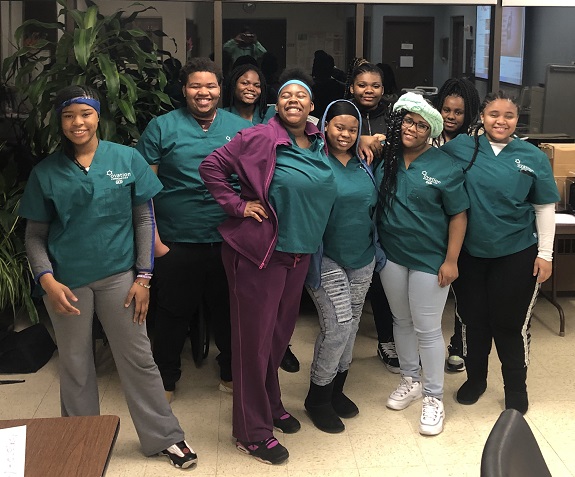 Forty students are enrolled in the Geriatric Career Development program at
Ovation Communities in Milwaukee. In 2018, Ovation was the first
member to participate in the program launched by LeadingAge Wisconsin.
The LeadingAge Wisconsin Research and Education Foundation works with partnering high schools to identify candidates. Students are recruited at the end of their freshman year, and commit to the GCD for three years (grades 10-12). They spend eight to ten hours per week, year-round, in the participating provider organization. Students in the program have access to mentoring from residents, tutoring, life skills counseling, internships, and training in elder care and clinical work.
The program started in 2018 with a small summertime pilot and a few students. The first class of 12 students, says Mashak, did not include any who said they were interested in health care careers.
"They were just amazed at the many disciplines, the many professionals that work in a long term care facility," Mashak says. "That first class, all at-risk for not graduating, has graduated. Three students graduated a year early; all but three are enrolled in college, all in some type of a health care program. The three who are not in college are full-time employees of the (Ovation) community where we ran the pilot."
According to Michael Sattell, CEO of Ovation Communities, the students work part-time, usually in dietary or a youth options program. They receive a stipend to be a part of the program, and have a chance to work with the residents. He adds that the stipends, staff time, and transportation costs—because students from three high schools are involved—are the main expenditures for Ovation Communities.
Sattell says that he and the COO oversee the program, and it requires about half the time of one human resources employee during the school year. A summer program employs two college students as tutors, each working 15 hours a week. Other staff, such as activities, are involved in various ways. The staff education department provides some of the training, although Ovation uses an outside school to do CNA exam preparation.
"Each student is assigned a mentor who is an Ovation resident, and those bonds become so close," says Mashak. Students go to the community three times a week during the school year, four times during breaks, for about three hours at a time. They get assistance with homework and help in identifying a curriculum that will lead to college success or to the career choice that interests them.
Each visit also includes an hour learning clinical skills and an hour doing activities with residents. Students have the opportunity to do two-week internships in any department, and receive a certificate for each.
Mashak says the program relies on GCD champions in the communities involved, especially in the partnering high schools. As for the people who will be working with the students, she suggests finding someone close to the students in age and ethnicity. Ovation hired a college student majoring in human resources at the University of Wisconsin–Milwaukee to help. "It was funny," she adds, "because when the students came in, they assumed she was one of them. She was absolutely amazing."
The pandemic restricted the program, but Ovation Communities made it work virtually. Mashak says LeadingAge Wisconsin is now pursuing a large grant from the state that would allow the program to be launched in more communities. It costs about $4,500 per student per year to run the GCD. Neither the students nor the school bear any of the cost; the hosting community absorbs the cost of its staff time, and the rest of the expense is borne by grants and community support.
"Our biggest concern is when our facilities are struggling to find people to work as employees in the building," says Mashak, "how are they going to find somebody to do a training program? We're going to have to work through that one."
She says the program is looking at how other at-risk populations might be recruited–Afghan refugees or Native American students, for example–and is talking with other organizations about providing housing when needed for participants.
"We're doing well by doing good for the community," says Sattell. "It would be incredible to get more employees for ourselves, but even if not, we're helping students that are at-risk. We pay attention to them and help them to grow, and it's so rewarding."
LeadingAge Wisconsin members interested in participating can contact Janice Mashak at jmashak@LeadingAgeWI.org or (608) 556-1998. More details on the program can be found at the LeadingAge Wisconsin website.
For more on The New Jewish Home GCD program, see this article about the January 2020 LeadingAge Catalyst and this promising practice from the LeadingAge Center for Workforce Solutions.
Partnering With Schools and the State to Promote Apprenticeship
Like their colleagues across the country, Indiana providers are suffering severe staffing shortages, according to Eric Essley, president/CEO of LeadingAge Indiana.
"Between not being able to find or keep employees, or being forced to use agency staff at exorbitant rates, our members are struggling," Essley says.
A survey of members by LeadingAge Indiana (23 respondents) show that those providers have significant shortages in many job categories. Of the total number of full-time positions that are open, positions with high resident contact have the greatest vacancies: CNAs (36%), dietary (14%), LPNs (13%), and registered nurses (11%).
Encouraging young people to consider careers in LTSS is one way providers hope to build a pipeline of workers. In Anderson, IN, LeadingAge member Essential Senior Health and Living, in partnership with Indiana's Office of Work-Based Learning and Apprenticeship (OWBLA) and Alexandria-Monroe High School, is participating in a State Earn and Learn (SEAL) program to train students for careers in long-term services and supports (LTSS).
In August 2020, Essential Senior Health and Living began working with the high school, where the health care pathway was the school's first SEAL program. It is the state's first comprehensive high school health care program in which all students are also enrolled in a registered apprenticeship program. The students also earn credit through Ivy Tech Community College. (See this infographic for more on the state's SEAL programs.)
According to Beth Harpe, CEO at Essential Senior Health and Living, the first class of students (juniors and seniors, 16-17 years old) started in August 2020. They began by working at Essential's Northview Health and Living community, about nine miles south of Alexandria, as hospitality aides, screeners, or other positions during the fall semester. In the spring semester, students took two health science classes. The plan is for all students to complete the program with CNA certifications. From the first class of 14 students, 6 are still working at Essential Senior Health and Living. Several others have gone on to further nursing studies.
The 2021 class includes 18 students. "We took what we learned from last year and brought it into this [year's] program," says Harpe.
Students who complete the program can immediately find work as CNAs in long-term care, but also have other options. Some hospitals and college nursing programs, for instance, require CNA credentials from incoming candidates. For Essential Senior Health and Living, "success is getting even 3-5 employees out of the program," says Penny Stevens, business development
coordinator.
Students spend about 90 minutes per day, five days per week, in the program. Essential Senior Health and Living's Amber Harpe, R.N., teaches the health science classes, and CNA classes are taught by Michelle Ball, a registered nurse at Essential. (Ball recently won a "Health Care Heroes" award from the Indianapolis Business Journal.) Some current CNAs at Essential have been recruited as "journey workers" who work alongside the students and help them learn the job.
Essential Senior Health and Living's participation is highlighted in a great video on the SEAL program:
"Other employers are recognizing the value of work-based learning programs," says Shelly Howard, business service representative for WorkOne-Central Indiana, part of The Region 5 Workforce Development Board that oversees the WorkOne system in eight counties around central Indiana. "We have other health care providers wanting to do this for various positions—developing a pre-apprenticeship that flows seamlessly." Howard notes that SEAL programs cover a variety of career pathways, including health care, advanced manufacturing, construction, IT, and more.
Howard also emphasizes how the program can help in places like Alexandria and other small towns. "We don't have a lot of training providers in rural areas, and a lot of these students don't want to travel outside their county. The partnership with Essential Senior Health and Living means students don't have to travel long distances to get their clinical education."
Harpe says state programs like this are very helpful to providers struggling to find staff.
"We've been offering CNA classes for a long time for adult learners," she says. "Now there are other avenues like the state's Next Level Jobs program for adult learners. It really opened our eyes to see what we've been missing out on, and getting some reimbursement." Between the SEAL program and Next Level Jobs, she says, the costs of her organization's instructors is covered.
Do you have a story to tell? The LeadingAge Story Collector, powered by Greystone, makes it easy to submit yours. Try it now.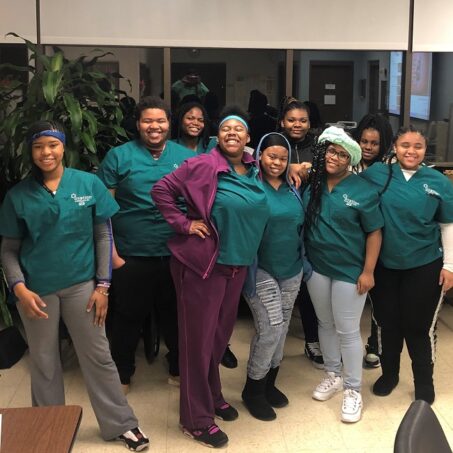 Most Recommended