Presbyterian Senior Living's James Bernardo Will Receive the 2022 LeadingAge Award of Honor
LeadingAge is proud to announce that James Bernardo, president and CEO of Presbyterian Senior Living, will receive its prestigious Award of Honor for 2022, during the LeadingAge Annual Meeting + EXPO in Denver, CO, Oct. 16-19.
After earning a degree in social work, Bernardo's career in aging services began in a Pittsburgh-area older adult program that provided meals, health services, and education. He then became administrator of a large county-owned nursing home, and later headed the aging services wing of the Diocese of Allentown, PA.
Since joining Presbyterian Senior Living (PSL) in 1985, Bernardo has been an administrator, executive director, regional operations director, and executive vice president. He became president & CEO in 2019 and is preparing to retire at the end of this year. Headquartered in Dillsburg, PA, PSL serves more than 6,000 older adults across four states.
"The LeadingAge Board voted unanimously to recognize Jim Bernardo as our 2022 Award of Honor winner for his exemplary leadership, countless contributions to our field at the local, state, and national levels, and his unfailing commitment to compassionate, vibrant, and supportive communities for older adults," says LeadingAge Chair Mike King.
A Focus on Building Leaders
Helping staff grow into leaders and building strong teams are intertwined passions for Bernardo. He describes a leadership philosophy that is person-centered, respectful, inclusive, and empowering.
"The thing that I am most proud of over my career with PSL is that I have been afforded the opportunity to build exceptional teams," Bernardo says. He is proud of "the development of a culture of inclusivity—a maturation of the organizational values that call [for] respect and connectivity and development."
As president and CEO, Bernardo has broken down silos within the PSL leadership while improving coordination below the senior staff level, allowing the PSL leadership team to be more collaborative in achieving organizational goals.
During Bernardo's innovative tenure at PSL, he led the early adoption of the small house concept within assisted living. He also made a strong commitment to applying technology in aging services, making PSL a more analytical and data-driven organization. He championed the expanded use of data analytics software to track resident and staff satisfaction and expectations, and to enable empirically driven resource allocation decisions. Other technological innovations under his leadership include adoption of robotic dining servers and resident engagement platforms.
A Commitment to Diversity, Equity, and Inclusion
Bernardo has long been a strong advocate for diversity, equity, and inclusion (DEI) in the aging services field. "It's the core of social work training, so academically I was prepared to think that way," he says. "I lived through so many burgeoning rights movements. I clearly remember the work that was done in the 1960s for racial equality. I was in college when gay rights […] was taken out of the closet, and I was exposed to the world of the changing role of women in society. I thought it was necessary [that PSL] really communicate that's what we are as an organization. We elevated the role of our DEI officer, and our leadership team is fully engaged in how we are going to be that organization that really does walk the talk."
Of Service to All
Bernardo has always had a commitment to affordable housing and services for older adults of limited means. He led efforts to boost PSL's affordable housing footprint from 200 to 1,200 units and to ensure that supportive services were available for the ongoing health, wellness, and safety of low-income residents.
"The foundation of [PSL] was in small personal care communities that serve people regardless of their financial [status]," Bernardo says. "As service provision became more complex and hospitality models were interjected into continuums of care, they became more resource-intensive. If you weren't careful, an organization could become exclusionary by only serving [affluent] people.
"Most of the new initiatives we're undertaking are in service-driven products," Bernardo adds. "We were probably among the first adult day providers, we just embarked on a community-based home care program, we have purchased a rehab company, and there are other initiatives we're looking into that will not only serve people in their homes, but provide an opportunity to serve people of different income levels."
Leadership for the Field
Bernardo has long been an active leader in the aging services field. He has served on the boards of both LeadingAge (2007-11) and LeadingAge PA (1994-2007, chair 2002-05). As treasurer of the LeadingAge board, he chaired a task force that revamped the association's dues structure, and he was a part of the organization's rebranding as LeadingAge in 2011. In his service to the two organizations, Bernardo says his most fulfilling role was as a coach with LeadingAge's Larry Minnix Leadership Academy and LeadingAge PA's Fellows in Leadership program.
Of his work in the leadership programs, Bernardo says, "Having the opportunity to work with emerging leaders in both programs was really the most impactful, and frankly, it was the most fun."
Bernardo was an early supporter of the Continuing Care Accreditation Commission (CCAC), and serves the Commission on Accreditation of Rehabilitation Facilities (CARF), which now owns CCAC, as a member of its international standard review process and as a surveyor.
LeadingAge PA honored Bernardo with the Paul Haas Lifetime Achievement Award in 2014, and in 2016, the University of Pittsburgh School of Social Work bestowed its Distinguished Alumni Award for his work and dedication to social services supporting older adults.
"It's probably a cliché when you are honored [with] an award like this, but this is really [about] the work and support of so many other people," Bernardo concludes. "It has to say a lot about the organization that I work for, and the man [Steve Proctor] that I worked for more than 30 years. I was always supported when choosing to use some of my time for the good of the field."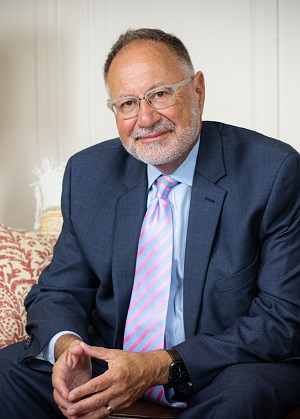 Most Recommended