Reimagining Adult Day to Recover from the Pandemic
During the worst of the pandemic, adult day programs underwent wrenching change. Many had to close. Others were able to stay viable by switching to remote services. Some kept clients engaged at home via daily phone calls and transitioning programming to teleconferencing; others created "caregiver advocates" to deliver meals and stay in touch with participants by phone, Zoom, or FaceTime; and some organizations reassigned idled staff to crisis phone lines or expanded meals programs.
The West Center Day Program in Ft. Worth, TX, was no exception. The dementia-specific program closed its doors in March 2020. However, the board and staff leadership of the James L. West Center for Dementia Care, the not-for-profit parent organization, saw this hiatus as an opportunity to expand and reinvent its adult day program to better serve clients and family caregivers.
The transformation of the West Center's day program is not just an example of creative rethinking of delivering quality services; it also illustrates how LeadingAge members support and learn from each other for the benefit of the older adults they serve.
"When we needed an onsite quarantine [space], our day program was the only space that truly could be separate," says Cathy Neece Brown, VP of mission support. "As the pandemic continued we realized that we needed to go offsite to find a new location […] This began the dream of how we could also expand our day program services to more fully meet the needs of the community."
The West Center learned that Rose Cottage, a for-profit adult day program about 15 minutes away, had closed, and that its owner, who also operates a home services company, was interested in selling the building. In December 2021, James L. West completed the purchase. Because the building was already set up for a day program, only minor renovations will be needed, and it will accommodate up to 60 clients each day.
New Approaches to Adult Day
The changes to come won't just be a matter of increased space, however. The new site will also incorporate a dementia-specific geriatric clinic, to be operated through a collaboration with a local medical school and its physician instructors. The clinic will be named for Dr. Janice Knebl, who has been the West Center's medical director for nearly 30 years. As part of the partnership, the clinic will also serve as a teaching location for the medical school's students plus interdisciplinary-studies students in fields such as pharmacy, public health, and informatics.
Neece Brown's experience in the Larry Minnix Leadership Academy inspired a key change to the adult day program. There, she learned about the Dementia360 approach created by Pennsylvania-based Presbyterian SeniorCare Network. The West Center will adapt the Dementia360 model to support older adults living with dementia at home. The approach matches clients with personal care coordinators who do in-home visits and evaluations, connects them with resources and roadmaps of care, and offers ongoing support to family caregivers.
The new approach will enable greater wraparound services and supports, says Neece Brown. She likens it to adapting elements of a PACE model to private pay. This approach will position the West Center as a future pilot site if alternate funding models are developed to address expanding home and community based care for persons living with dementia.
"At James L. West, we offer residential care [at the main campus] and we have an extensive caregiver education program that launched 10 years ago," she says. "In 2022, we'll launch a dementia-specific short-term rehab line for people coming out of the hospital. We're also [re-launching] the day program and introducing a new home services line. So we're layering services on top of each other to ultimately achieve success for caregivers and persons living with dementia. We are a pace-setting organization focused on innovation and outreach; it's part of our Center's fabric and commitment to the communities we serve."
Member-to-Member Inspiration
Neece Brown attributes much of the innovation in the West Center's adult day program to her experience in the Leadership Academy. Not only did she learn about Dementia360, she was directly inspired by Paul Winkler, one of its creators and the president and CEO of Presbyterian SeniorCare. (Winkler recently retired and received the LeadingAge Award of Honor for 2021.)
"We started a strategic planning process in 2018, and took a hiatus for a brief time while we focused on COVID. We soon realized that we must continue to move forward," Neece Brown says. "Winkler said in our class that failing to plan right now is planning to fail once the pandemic dies down. So, with these words of wisdom we kept that strategic planning focus with our board, and today we celebrate the outcomes of their hard work.
"It was fortuitous, during the pandemic, that I was in the Leadership Academy and had access to the leaders and the message of moving forward. It is a privilege to be a part of Leadership Academy, and I encourage leaders in aging services to look locally, state-wide and nationally for similar connections and opportunities. The Academy taught me many valuable lessons, including the importance of allowing time for connection, reflection and self-study, all of which has contributed to this recent project success," Neece Brown adds.
The organization is in the midst of a fundraising campaign that is expected to raise $3.65 million to cover the purchase of the building, expansion of the program, and the cost of participation for low-income clients. The campaign includes a $1 million commitment from First Presbyterian Church Fort Worth, the West Center's mission partner, which founded the West Center day program in 1986 under the leadership of the late Rev. Floyd Kinzer. Kinzer was a prominent leader in creating a variety of programs to benefit older adults in the Ft. Worth area; the new building will be named for him.
Do you have a story to tell? The LeadingAge Story Collector, powered by Greystone, makes it easy to submit yours. Try it now.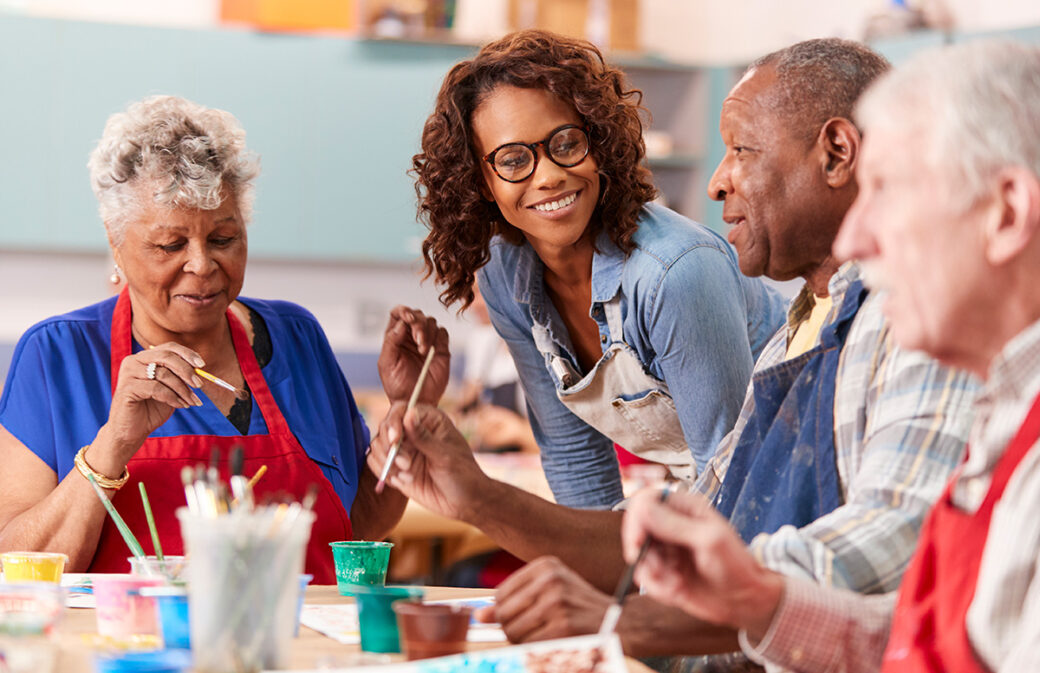 Most Recommended