Relationships Grow, Isolation Drops Thanks to Technology
When COVID-19 necessitated visitation restrictions, providers faced the challenge of keeping residents and their families in frequent communication, engaged, and well-informed.
Miravida Living, Oshkosh, WI, achieved those goals by creatively and inexpensively repurposing existing technologies to create multiple channels of communication. Using simple software tools—not to mention plain old paper—the organization strengthened relationships among residents, families, staff, and the surrounding community.
Miravida also used its tools to recognize the huge contributions of direct-care staff by enabling residents and families to share messages of support and thanks with employees.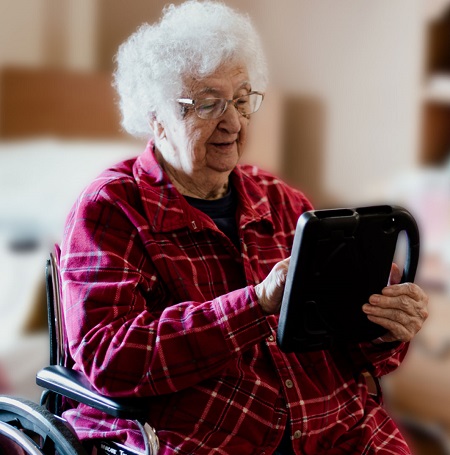 "Most of our [skilled nursing and assisted living] residents don't have an email address or access to technology where they can receive an incoming message," says Carrie Kiekhaefer, director of marketing and communications for Miravida Living. The solution was to repurpose a form on the Miravida website (later changed to a Google form) to allow families to write messages and attach images for their loved ones who did not use their own computers. The messages are then printed in color and delivered to residents by staff. Well over 3,000 such messages have been delivered since March 2020. Kiekhaefer also notes that the simple process encouraged more communication from family members living across the country.
The "Message a Resident" landing page also includes links to allow families to honor staff and to share content with all:
The "Encourage our Team" link allows families to thank team members. "Families were taking the opportunity online to send messages directly to our team members, lift them up, and acknowledge the sacrifices they were making," says Kiekhaefer.
Community interaction is encouraged with the "News from Home" broadcast link. Families can upload videos, photos, or messages to be shared on a bi-weekly broadcast, along with campus news.
While Miravida was offering "safe space" and tent visits during the pandemic, managing the scheduling was a challenge for already-busy staff. A workaround was found by adapting Microsoft Bookings into a scheduling system used by families, residents and staff to make, reschedule, or cancel appointments. Staff is automatically notified of schedule changes. Though the safe space visits are no longer needed, Kiekhaefer says the system remains in place to schedule Zoom and Facetime appointments.
Comments and questions from families indicated a lot of concern about the harm to residents caused by isolation. Miravida made sure to respond to all of them through social media or other means. The concern also inspired another simple adaptation: a constantly updated community calendar for activities in each building (one example here), accessible to families and friends.
"This helped allay family member concerns, especially during the isolation time, but what we've recognized is, families really love that conversation opportunity," says Kiekhaefer. "They know what's going on and they know what the resident is participating in." The calendar includes live links to worship services, which are streamed on the community's internal TV channel and its YouTube channel, that enable family members to worship together with their loved ones.
Family Stories
For California resident Beth Dahlke, technology was the key to staying in contact with her parents, both residents at Miravida Living. Dahlke used the website tools to email messages and photos to her parents and attend weekly Zoom meetings. She says her mother, despite Alzheimer's disease, "still understood that someone she loved was keeping in contact with her, giving her a sense of security and easing anxiety."
Before COVID, Marie Sawall would visit her mother 1-2 times per week. After the lockdown, they were limited to window visits and phone calls. Later, she used Miravida's Message a Resident service to send letters and photos, and sent videos for Miravida's News from Home broadcasts. Sawall says, "We started doing Zoom once a week, and it took [Mom] a while to like it. Then she got used to it. […] and my sister in Iowa would join in."
Sawall says she retired and moved two hours away from Oshkosh during the pandemic: "I was stressed about it, but with all these threads of connection, we were able to stay more connected that way than we were at the start of the pandemic."
Hallie Plaster, a Florida resident, uses Miravida's email portal frequently to send messages and photos to her grandfather. She says he struggles when using a computer, so the printed messages were much appreciated. She also video chats with him frequently, which works much better for him than a regular phone conversation. Plaster had a baby in January 2020, and was able to introduce her by video. Plaster says she's had more contact with him, thanks to these tools, than she would have otherwise. "I'm a nurse and have worked in nursing homes, and I was really thankful and impressed that they started this and it's worked so seamlessly. I wish everybody could do this."
Broadband and Device Access Always Challenging
Miravida Living's efforts to improve resident engagement ran into two chronic problems many providers face, especially in the affordable housing sector: lack of communication devices for residents, and the broadband needed to make the most of them.
The Oshkosh Community Foundation's COVID-19 relief fund, along with an AmazonSmile campaign in November, supplied funds to cover the purchase of 45 Fire tablets for residents—mostly in skilled nursing and assisted living—to use for communication with families and other programming. It also became apparent that equipment expenses would be greater than expected: Many residents needed hardware to enable tablets to attach to wheelchairs or beds. "Getting the technology was great," Kiekhaefer says, "but then delivering it to residents cost extra."
Unfortunately, the greater challenge was meeting the broadband needs of residents, she adds. Miravida, which has seven buildings, lacked enough wifi access points to handle all the new communication needs. A private donation from a resident, plus additional grant money from the Oshkosh Foundation, provided about $15,000 to enable installation of new access points to the buildings. (There still aren't enough—in some buildings, staff must time the technology use because of bandwidth issues.)
Miravida's short-term strategy is to boost the capabilities of its internal TV channel, which connects residents to learning opportunities and programming in brain fitness, spiritual activities, fitness, and more. This will require installation of new equipment in each building. The organization is collecting quotes on the cost, and then will seek funding to enable the installation.
"Using multiple technologies, we really customized our website by integrating ways to reach targeted audiences, and provide appropriate platforms for incoming communications," says Kiekhaefer. "We've seen intergenerational relationships grow, and resident isolation lessen. While innovations were developed in response to the pandemic, the communication strategies are now best practices and will continue in the future for us."
This story originated in the LeadingAge Story Collector, powered by Greystone. Submit your story now.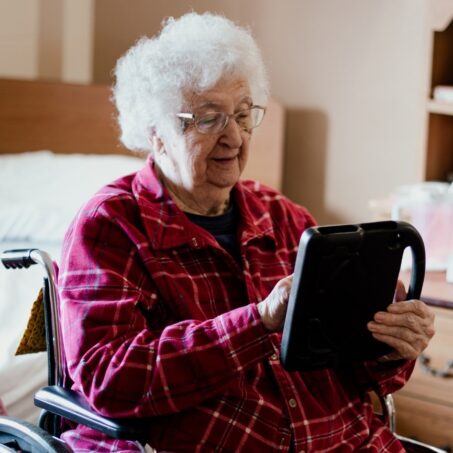 Most Recommended