Virtual Reality Opens Hearts and Entertains Nursing Home and AL Residents
Technology that connects and engages older adults has proven itself indispensable during the pandemic. Virtual reality technology takes resident engagement to another level, transporting users around the world and into the past.
At Parker, Piscataway, NJ, Rendever virtual reality programming was so popular at an assisted living community, Parker at Stonegate, that the organization has made it available at all five of its communities, which offer skilled nursing, assisted living, and post-acute care.
Patricia Newman, recreation manager for Parker at Stonegate, says her residents were awestruck by the VR experience: "We use it to bring them back to a country they've traveled to, or to introduce something new. It sparks conversation and builds connection."
Judy Collett-Miller, director of technology innovation, describes how the experience affects residents: "One elder receiving hospice services wanted to revisit the Grand Canyon; it was a favorite memory for them and a wonderful experience we could provide. For another elder who is nonverbal and living with dementia, a virtual trip to visit waterfalls and a museum tour were offered. Our staff talked about how engaged the resident was, moving around to view the 360 experience, all the while with a smile on their face."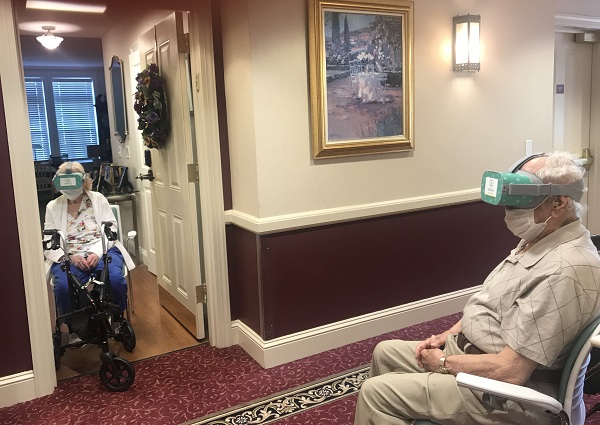 Collett-Miller says that Parker's internet access has been up to the VR tasks so far, and the organization is now upgrading its broadband infrastructure.
"We understand how important connectivity is to providing programming and support to our elders, particularly during COVID when residents and families were only able to visit virtually," she says. "Broadband is viewed like a utility now," she says. "And it's essential to enabling programming, services and support for seniors wherever they live."
Rendever introduces new programs each month; mindfulness and meditation were the themes in May, for instance. Live experiences are offered twice a week, with a Rendever guide talking participants through a tour of another country or a discussion about art. The Parker employee on hand can chat with the presenter via a tablet, allowing residents to ask questions and answer a trivia quiz.
Newman says the assisted living residents most enjoy the travel and special seasonal experiences (e.g., a June tour of the National Mall in Washington, DC). Beatlemania was another popular choice. She says there are 18-20 residents who want to use the VR equipment regularly.
"With any engagement technology, there are common themes," says Collett-Miller, "but these are personalized, and that's what we like most about it. Some people are interested in the musical programming; others would rather visit National Parks or swim with sharks." She says Parker wants to make it possible for families to participate as well. Newman says she would like to display what's on the tablet on a large screen TV so that more people can participate.
While the VR experience is shared within groups, it can also be provided one to one for a personalized experience, says Collett-Miller: "Whether it's musical programming, a visit to a National park, or a virtual visit to the home you grew up in, that's what makes it so meaningful for our residents." Now that visitors are returning to Parker homes, the team is planning to share the VR experience with residents and their family members.
This story originated in the LeadingAge Story Collector, powered by Greystone. Submit your story now.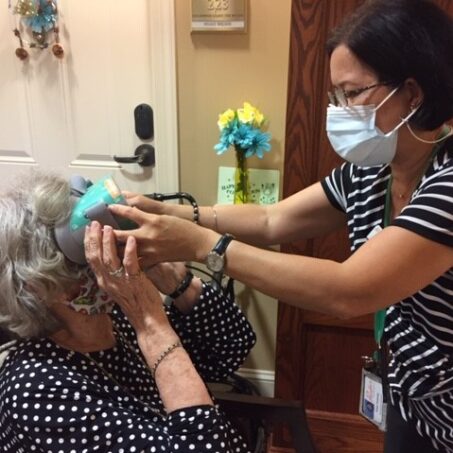 Most Recommended