Wellness Partnership Brings Outdoor Fun to Older Adults in All Settings of Care
Nonprofit life plan community Oaknoll, a LeadingAge-member in Iowa City, IA, is helping its residents in all settings through a partnership that brings them fun and challenging outdoor activities.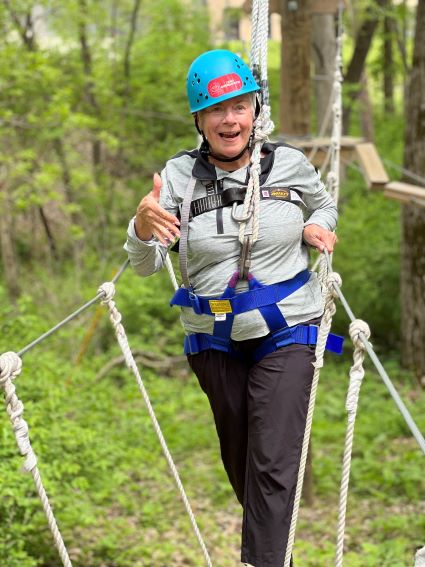 Oaknoll Administrator Kim Bergen-Jackson discovered Camp Courageous, Monticello, IA, about five years ago. The Camp, founded exactly 50 years ago, annually serves nearly 10,000 individuals of all ages with special needs on its 400-acre campus. More than 140 Oaknoll residents have visited the camp, including 26 this year over two days.
Oaknoll residents from independent living, assisted living, and long-term and memory care participate. This year, for instance, 10 of the 26 residents who attended were from long-term care.
"They make all of the activities accessible for anyone that comes," says Oaknoll Recreational Therapist Lindsey Reed. She says residents canoe, paddle boat, bowl, take train rides around the camp, and visit the camp's animals. The highlight for many is the Burma Bridge, Camp Courageous' ropes course, built to accommodate all ages and abilities.
Kent and Gretchen Fuller, interviewed in a local television spot on the outing, enjoyed the outing. "[It was] something to actually get us out after COVID," said Gretchen.
"For example, when we went paddle boating and canoeing, there were several residents with walkers, and one in a wheelchair, whom they could transfer into the boats safely," says Reed. "It was the same with the ropes course; they have a lift, and can put a sling underneath of a [person], and they're able to walk them across the ropes course so that they get that same sense of accomplishment, and then send them back on a mini zip line."
Reed says the zipline is the most popular feature for residents; this year it was not operating, but Oaknoll residents have been invited back to use it later this summer.
Oaknoll maintains at least a 1:2 staff-to-resident ratio on the excursions. On the first day of visits this year, for instance, eight staff members and two volunteers accompanied the 16 residents. At least one RN and one or two CNAs are on every trip.
Oaknoll does not do formal evaluations of the program, but Reed says it's very popular among residents, who delight in sending photos of their exploits to grandchildren.
See this television news video on Oaknoll's latest visit to Camp Courageous.
Do you have a story to tell? The LeadingAge Story Collector, powered by Greystone, makes it easy to submit yours. Try it now.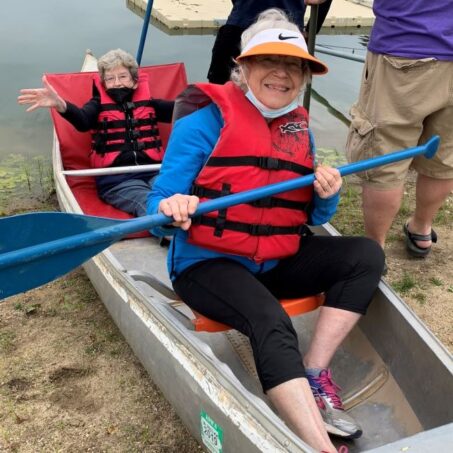 Most Recommended