Affordable Housing Residents Engage with the World Via Technology and Broadband
Editor's note: This story was submitted to the LeadingAge Story Collector by Kate West, director of strategic initiatives for Eaton Senior Communities, a LeadingAge member in Lakewood, CO. Eaton is a housing provider serving older adults with 64 market-rate and 161 HUD-subsidized apartments. On the day we talked with West and President and CEO Diana Delgado, Eaton Senior Communities had just received its shipment of Google Next Hub Max devices as part of the partnership between Volara, LeadingAge, and several other organizations.
At the start of the pandemic in 2020, Eaton Senior Communities conducted a technology survey of its residents, given the shift away from in-person interactions. Staff called each resident directly, both in market-rate and HUD-subsidized apartments, to inquire about their desire and capacity for increased social connectivity via technology.
The survey showed that 73% of our residents already owned a laptop, desktop, tablet, or smartphone with internet connectivity. Of the residents that already own devices, 79% of them said they use their devices daily.
However, the survey also revealed a need for help; 32% of respondents told us they needed some form of assistance with technology. Since then, Eaton Life Enrichment Director, Alison Mitisek, has been reaching out to each of these residents to provide support, including meeting one-on-one (with masks) to provide in-person training as needed.
Eaton has been supporting residents in accessing and utilizing technology for years:
Since 2015, Eaton's iPad program has been providing microloans for residents to purchase iPads, which we buy in bulk for a reduced rate. Residents can make low, no-interest monthly payments to purchase the iPad at cost.
Eaton also partners with Audio Information Network of Colorado, which has provided free Amazon Echo devices to residents with low vision, and with PCs for People to help provide free or low-cost laptops and desktops for residents. Through electronic reuse, PCs for People provides the opportunity for all low-income individuals and nonprofits to benefit from the life changing impact of computers.
We have offered free Wi-Fi to our community since 2014. However, during the pandemic, when it became clear that our residents would need to rely even more heavily on technology to participate in activities, resident meetings, and to connect with friends and family, we installed Wi-Fi boosters throughout the building.
With Touchtown, Eaton can also create connections through a customized TV station, community apps, and more.
Eaton's life enrichment director and interns have been providing one-on-one education and training to get residents set up with Zoom, Facebook, and any other technology needs.
They are now doing a resident survey related to sense of purpose, and one question asks about interest in various activities. So far, technology clubs have been the highest-rated wish among the residents who have responded.
The Impact of Technology: Resident Stories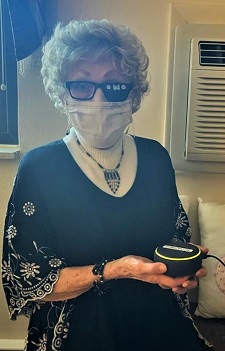 For affordable housing residents, access to digital devices and good broadband service are transformational, helping older adults stay connected with family and friends, access medical services via telehealth, and maintain strong community connections. Here are a few stories of Eaton residents who benefit from the social connectivity that technology provides.
Shirley's life was transformed when she joined the Amazon Echo pilot program at Eaton. Alexa has helped Shirley find resources she needs as a person with low vision. Recently, she used Alexa to find a church's phone number she did not know the address to. Alexa also tells her jokes, provides the forecast, gives her tips for the day, and gives football updates with game times and dates. Most importantly, Alexa assists with medication reminders and emotional support, by making her laugh often and lifting her spirits.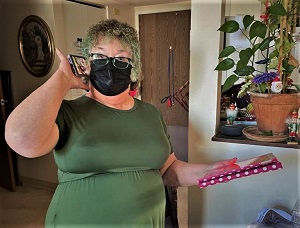 Lynn benefits from many forms of technology, including a smartphone, an Amazon Echo, and an iPad. Most recently, she was able to find and adopt Molly, her dog, at a local shelter. Lynn also uses technology to commute by using Uber, to stay in touch with family through Facebook, to shop online, and to have her groceries delivered. The device she used most during the pandemic was her iPad—which she would not have been able to afford without the iPad program. Friends would meet with her remotely via Zoom, and Lynn also helped Eaton's Life Enrichment Department set up Zoom bingo.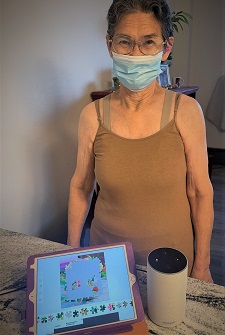 Jacqueline's iPhone allows her to read the national news and stay up on politics. Through technology, Jacqueline has had the opportunity to visit museums around the world and learn about art; she credits technology for expanding her knowledge. Technology has made her life feel more meaningful and provided a positive outlook, especially during the pandemic. Jacqueline also utilizes the Touchtown app, which keeps her up to date with news and activities taking place at Eaton.
Julie was first introduced to an iPad in 2016 and had a few hiccups along the road. Her previous iPad was hacked, and another fell on the floor and broke. Nevertheless, she now has a new one, which Eaton staff helped set up. Julie also benefits from her Amazon Echo. Alexa assists Julie with spelling words, listening to music, and providing specific contact information for businesses. Each morning, Alexa wakes her up by playing 60's oldies to start the day!
This story originated in the LeadingAge Story Collector, powered by Greystone. Submit your story now.
LeadingAge CAST Resident Technology Guide
If you would like to provide resident tech support, check out the Resident/Client Technology Support and Training White Paper and Guide from LeadingAge CAST. Released in early 2021, it will help you understand the different support, training, and potential business models for resident/client technology support. And check out Tech Concierges Benefit Independent Living for more case studies from providers who have employed tech concierges for their residents.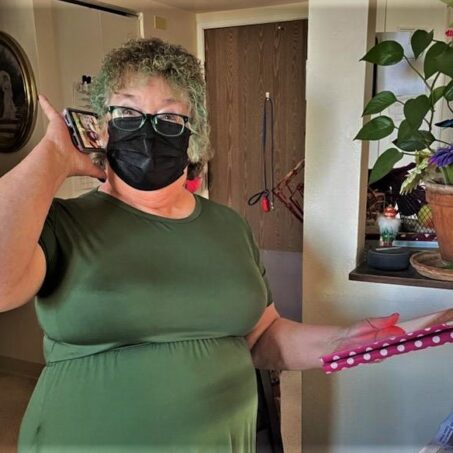 Most Recommended