CMS Releases Rules, Guidance on Nursing Home Testing
Consistent with previous recommendations from CMS and CDC, nursing homes will now be required to test all residents and staff in response to an outbreak, with routine surveillance testing also required for all staff, volunteers, and individuals providing services under arrangement with the nursing home.
This testing requirement was released as part of interim final rule CMS-3401-IFC on August 25 and accompanied by detailed guidance from CMS in memo QSO-20-38-NH released on August 26. This guidance outlines testing procedures, outbreak response, required documentation, reporting requirements, and survey procedures. CMS memo QSO-20-37-CLIA,NH further outlines requirements for reporting point-of-care testing conducted in nursing homes.
Testing Requirements
Consistent with CDC recommendations, nursing homes must now test all staff and residents who show symptoms consistent with COVID-19 and must conduct facility-wide testing for all residents and staff in response to an outbreak of COVID-19. Remember, an outbreak is considered one new case among nursing home staff or one new nursing home-onset case among nursing home residents. A resident who is admitted to the nursing home with a COVID-19 diagnosis or a resident who develops COVID-19 within 14 days of admission is not considered a nursing home-onset case and would not trigger an outbreak response and testing.
CMS also requires nursing homes to now conduct routine testing of all staff consistent with community prevalence. Staff are considered any individuals who are employed by the nursing home, who volunteer for the nursing home, or who provide services as part of an arrangement with the nursing home. This could include hospice workers, caregivers, or students participating in a nurse aide training and competency evaluation program. If staff receive testing off-site, such as contracted staff receiving testing through their employer, the nursing home must obtain documentation to verify that testing requirements have been met.
Nursing homes may meet testing requirements through the use of point-of-care testing devices or through off-site laboratory testing. Only antigen tests and nucleic acid tests are acceptable; antibody tests will not meet requirements. Tests that are processed at an off-site laboratory must return results within 48 hours.
Recall that a nursing home must obtain an order from a physician, physician assistant, nurse practitioner, or clinical nurse specialist in accordance with State law, including scope of practice laws, for COVID-19 testing. This may be accomplished through the use of physician-approved policies, such as standing orders, or other means as specified by scope of practice laws and individual nursing home policy.
Outbreak Testing Procedures
Nursing homes must initiate outbreak testing procedures in response to one new confirmed case among staff or one new confirmed nursing home-onset case among residents. During outbreak testing, all residents and staff must receive an initial test. Nursing homes must implement appropriate response for all who test positive, including cohorting and implementing transmission-based precautions for residents, including those who are asymptomatic and tested positive, and restriction from work for staff, including staff who are asymptomatic and tested positive. Nursing homes must continue testing all residents and staff who test negative every 3-7 days until 14 days have passed since the last positive test result.
Routine Staff Testing Procedures
Nursing homes must conduct routine testing of all staff according to community prevalence. In order to determine testing based on community prevalence, nursing homes must monitor the nursing home site at data.cms.gov every other week for the positivity rate of the county in which the nursing home is located. If the county positivity rate increases, the nursing home must immediately increase testing for the appropriate frequency. If the positivity rate for the county decreases, the lower positivity rate must be sustained for a period of 2 weeks before the nursing home can reduce testing to the appropriate frequency. The county positivity rate will determine the frequency of routine staff testing as follows:
Routine Testing Intervals Vary by Community COVID-19 Activity Level
| | | |
| --- | --- | --- |
| Community COVID-19 Activity | County Positivity Rate in the Past Week | Minimum Testing Frequency |
| Low | < 5% | Once a month |
| Medium | 5% – 10% | Once a week* |
| High | > 10% | Twice a week* |
*This frequency presumes availability of Point-of-Care testing on-site at the nursing home or where off-site testing turn-around time is < 48 hours.
The testing frequency outlined above represents minimum testing requirements. Nursing homes may choose to increase routine testing frequency based on other factors including state or local mandates, community prevalence in neighboring counties, or community prevalence in a county or counties where a significant portion of staff live.
Staff and Resident Refusals of Testing
Nursing homes must have a plan for residents and staff who refuse testing or are unable to be tested. For symptomatic residents who decline testing or asymptomatic residents who decline testing during an outbreak, the nursing home should use a person-centered approach to address concerns and questions, provide education, and discuss potential alternatives, such as alternative specimen collection methods. If the resident continues to decline testing, the nursing home should do the following:
For symptomatic residents, implement transmission-based precautions until the resident meets criteria for discontinuation of transmission-based precautions.
For asymptomatic residents, the nursing home should exercise extreme vigilance, such as through additional monitoring, to ensure the resident maintains distance from other residents, wears a face covering, and practices effective hand hygiene until outbreak testing is complete.
The nursing home should address staff who refuse testing as follows:
For symptomatic staff, restrict the staff member from work until he/she meets return-to-work criteria.
For asymptomatic staff who refuse testing during an outbreak, restrict the staff member from work until outbreak testing is complete.
For asymptomatic staff who refuse routine testing, refer to occupational health and local jurisdiction policies.
Procedures for When Requirements Cannot Be Met
Nursing homes that are unable to meet testing requirements due to emergency situations, such as community testing supply shortages, limited access, or inability of laboratories to process test results within 48 hours, must contact the state/local health department for assistance.
Other Testing Considerations
Consistent with CDC recommendations, nursing homes are not required to re-test asymptomatic individuals who have recovered from COVID-19 within the past 3 months. Testing should resume as required 3 months after symptom onset of the initial illness. In other words, an individual who first showed symptoms on June 1 and was confirmed positive for COVID-19 does not need to be re-tested until after September 1, provided the individual remains asymptomatic.
Nursing homes should continue screening for fever and symptoms all residents, staff, and any visitors who may enter the nursing home, despite any ongoing testing. Nursing homes should refer regularly to the CDC guidance for the most up-to-date list of COVID-19 symptoms.
Documenting Testing
All testing must be documented. For residents, testing must be documented in the resident's medical record. Staff testing must be documented in the personnel file. All documented test results must be maintained according to standards for personal health information (PHI). Documentation should include the following information:
For testing of symptomatic residents/staff: date and time of symptom onset, when the resident/staff was tested, the result of the test, and actions taken.
For testing of asymptomatic residents/staff in response to an outbreak: date the triggering case was identified, date all residents and staff were tested, dates of subsequent retests, and results of all tests.
For routine testing of staff: applicable county positivity rate, corresponding test frequency, date the positivity rate was collected, date of rests conducted, and results.
For any resident/staff who refuse or are unable to participate in testing: document the nursing home's policy on refusals, any residents/staff who refuse or are unable to be tested, and how the those issues were addressed.
Reporting Testing
Recall that nursing homes must report all tests conducted in the nursing home using a point-of-care testing device according to Clinical Laboratory Improvement Amendments (CLIA) requirements. This includes reporting all tests within 24 hours to the state or local health department. Nursing homes that fail to comply with CLIA reporting requirements will be imposed a Civil Money Penalty (CMP) of $1,000 for the first day of non-compliance and $500 for each additional day of non-compliance up to $10,000.
Nursing homes must also continue reporting COVID-19 data directly to CDC through the National Healthcare Safety Network (NHSN) system on a weekly basis. Nursing homes that fail to comply with NHSN reporting requirements will be imposed a CMP of $1,000 for each week of non-compliance, with an incremental increase of $500 per week of noncompliance. So for example, failure to report for one week will result in a $1,000 CMP. Failure to report for a second week will result in a CMP of $1,500, and a CMP of $2,000 for the third week, up to $6,500.
Lastly, nursing homes must report all positive COVID-19 test results to the state/local entity for contact tracing.
Survey Procedures
The COVID-19 Focus Survey Tool for Nursing Homes has been updated to reflect new requirements. Compliance will be assessed according to several F-tags, including new F-tag 886. Surveyors will assess for compliance in the following ways:
Surveyors will review required documentation related to testing, including testing of symptomatic individuals, testing in response to outbreaks, routine testing of staff and county prevalence monitoring, refusals, and emergency situations where test results could not be obtained.
Surveyors will review records of residents and staff selected as the survey sample.
Surveyors will observe how the facility conducts testing. If real-time observation of testing cannot be done, the surveyor will interview the individual responsible for testing to determine if the process meets requirements.
Survey citations and associated enforcement remedies, including CMPs, will be assessed according to resident outcomes as outlined in Chapter 7 of the State Operations Manual.
What This Means for Providers
While most of the rule is consistent with CDC recommendations, required testing without adequate supplies or funding will create a significant challenge for nursing homes struggling during this crisis. LeadingAge is formulating comments for submission on this interim final rule to address issues, including enforcement remedies and requirements that present insurmountable challenges for our mission-driven providers who work tirelessly to protect older adults. We continue to advocate strongly for federal funding to meet testing requirements.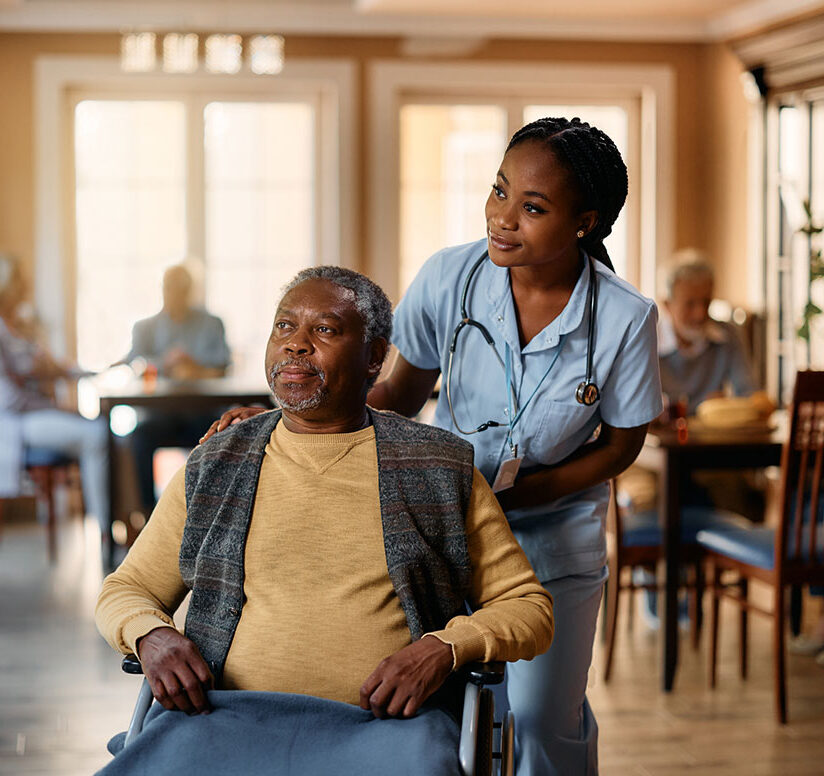 Most Recommended