FDA Moves to Simplify COVID-19 Vaccination
The Vaccines and Related Biological Products Advisory Committee (VRBPAC) of the Food and Drug Administration (FDA) met on January 26 to discuss the future of COVID-19 vaccination. The committee was asked to discuss: 1) harmonization of vaccine strain composition for primary series and booster doses, 2) simplification of COVID-19 immunization schedules, and 3) development of routine periodic strain selection procedures. While the last 2 topics were discussion only and will be re-examined in the spring, VRBPAC approved the recommendation to harmonize vaccine strain composition. Read on to learn more about these recommendations and how they impact LeadingAge members.
Harmonizing Vaccine Strain Composition
VRBPAC discussed and ultimately approved a recommendation to harmonize vaccine strain composition among COVID-19 vaccines. Currently, a monovalent vaccine is approved for the primary series of COVID-19 vaccination while bivalent vaccine is approved for all subsequent booster doses. Harmonizing the strain composition means that going forward, anyone receiving a COVID-19 vaccine would receive a bivalent vaccine, whether it is their first shot or sixth shot.
Of course, the January 26 approval is only a recommendation by the advisory committee and FDA will need to take further steps before this recommendation becomes reality. However, the recommendation is a positive step toward reducing barriers to COVID-19 vaccination. Currently, before an individual can receive COVID-19 vaccination, one must identify the number of shots previously received, then locate a vaccine provider with the appropriate vaccine (monovalent vs. bivalent). By harmonizing strain composition, a COVID-19 vaccine provider could theoretically serve any individual seeking COVID-19 vaccination. An added benefit would be ability for vaccine providers to store more vaccines onsite and lower risk of medication error since vaccine providers would no longer be juggling both monovalent and bivalent vaccines.
Simplifying Immunization Schedules
VRBPAC discussed a simplification of COVID-19 immunization schedules in which most individuals would be recommended for just one bivalent shot, while individuals assumed to have lessened immunity such as older adults, very young children, and individuals who are immunocompromised would be recommended for 2 shots. The simplified scheduled would likely be recommended as an annual schedule (a single, bivalent vaccination annually for most individuals) similar to the schedule currently recommended for influenza immunization.
This recommendation was only a discussion topic at the January 26 meeting and will be re-examined in future VRBPAC meetings. The recommendation is based on the theory that 2 or more exposures, either through vaccination or infection, produces sufficient pre-existing immunity to support single, annual shots going forward. VRBPAC has recommended further analysis of evidence exploring this theory.
Should this theory be supported, VRBPAC anticipates being able to clearly delineate a well-founded age- and/or risk-based approach to determine who should get one dose annually vs. who should get 2 doses annually. This simplified schedule could encourage conversation between individuals and vaccine providers, including primary care physicians and pharmacists, resulting in improved vaccine uptake.
Setting a Schedule for Periodic Updates
VRBPAC discussed procedures for periodic vaccine strain composition review and update. Similar to current procedures for flu vaccines, the advisory committee would meet annually to review currently circulating virus strains and clinical modeling to predict the vaccine strain composition that would be most effective. It is suggested that this review would take place by June each year to allow for manufacturing of the vaccines to be available by September each year.
While FDA would retain the ability to review and update vaccines on a more frequent, ad hoc basis should a variant that evades the current vaccine composition pose a significant public health threat, establishing a schedule may assist in vaccine access as manufacturers and vaccine providers are better able to plan how to meet the needs of the public. Taken with simplification of immunization schedules, these 2 recommendations together may have the added benefit of increasing vaccine acceptance by signaling to the public that COVID-19 has become a normal part of our daily lives to be addressed and managed going forward.
What This Means
As noted, VRBPAC voted on only one of the 3 recommendations – harmonizing vaccine strain composition. This recommendation will require further action to be operationalized and the other 2 recommendations require further research and discussion before they will be put to a vote.
It will be important for LeadingAge members to work with the staff and older adults in their communities to understand that for the time being, nothing changes. It is still recommended that individuals accept COVID-19 vaccination, including any bivalent boosters available to them. Vaccinations should be accepted now to provide protection as we wait to see what the future of COVID-19 immunization is for our country.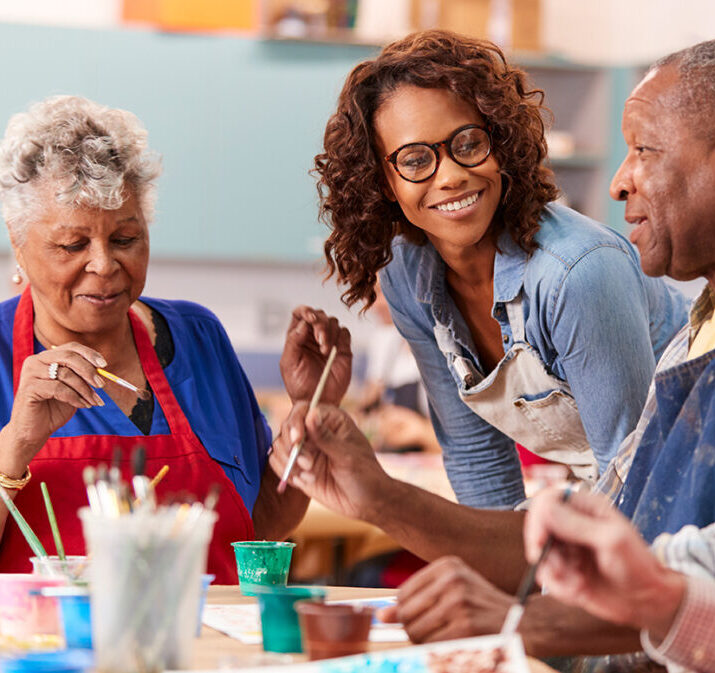 Member Recommended