Helping Immigrant Nurses Help U.S. Long-Term Care
The acute shortage of frontline workers plagues long-term services and supports (LTSS) providers—and is now receiving much-needed media attention—but the struggle doesn't end there. Providers face daunting challenges filling other positions as well, especially in licensed nursing.
One solution to the nursing shortage is the recruitment of immigrant nurses, and LeadingAge member Chicago Methodist Senior Services (CMSS) has created its own solution.
CMSS created United Methodist Healthcare Recruitment (UMHR) in 2005 to facilitate the recruitment of nurses from the Philippines; today, more than 15 years later, the program is going strong despite disruptions caused by the pandemic.
"We are a small organization; we want to defend ourselves against the nursing shortage," says Bill Lowe, CMSS president and CEO. The revenue stream from UMHR, along with several other entrepreneurial ventures CMSS has created, goes to the organization's mission. Lowe refers to this as "substitute philanthropy."
Lowe says the organization now has more than 300 Filipino nurses in the pipeline, though the U.S. government has temporarily reduced its staff in the Philippines due to the state of the pandemic there. This has slowed down the final interviews in the U.S. Embassy in Manila. He adds that UMHR's existing clients could easily use another 100 nurses once the restrictions end.
UMHR Vice President Rose Policarpio—who is also director of nursing for CMSS—is the central figure in the process. Her expertise and experience in recruiting nurses in her native country has enabled UMHR to bring more than 100 nurses to the U.S., both for CMSS and for client organizations. UMHR's work was outlined in a 2018 LeadingAge magazine article, "Recruiting Foreign Nurses to Remedy Chronic Shortages," which also includes a podcast featuring Lowe.
"When I tell people about our program, they ask, can you do this for CNAs? And of course we can't, or we would," says Lowe. "However, we feel like […] we're well-calibrated, if the U.S. government ever throws up its hands and says we're going to need immigrants to help tackle this problem. Theoretically, those frontline workers could come from anywhere in the world. The nice thing about the registered nurses from the Philippines is that they train them well; they're BSNs when they arrive here. Hopefully, that will be one of the solutions our government comes up with."
How is your organization increasing wages and benefits to attract and retain direct-care workers? The LeadingAge Story Collector, powered by Greystone, makes it easy to submit your story. Try it now.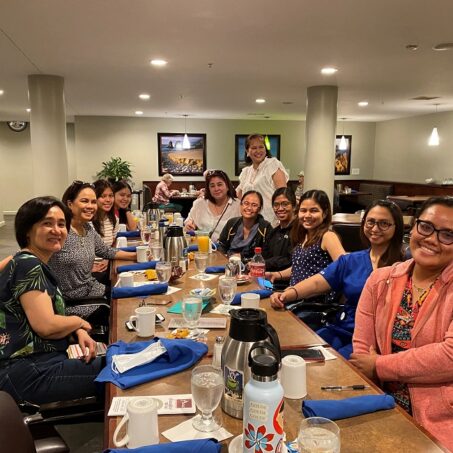 Most Recommended